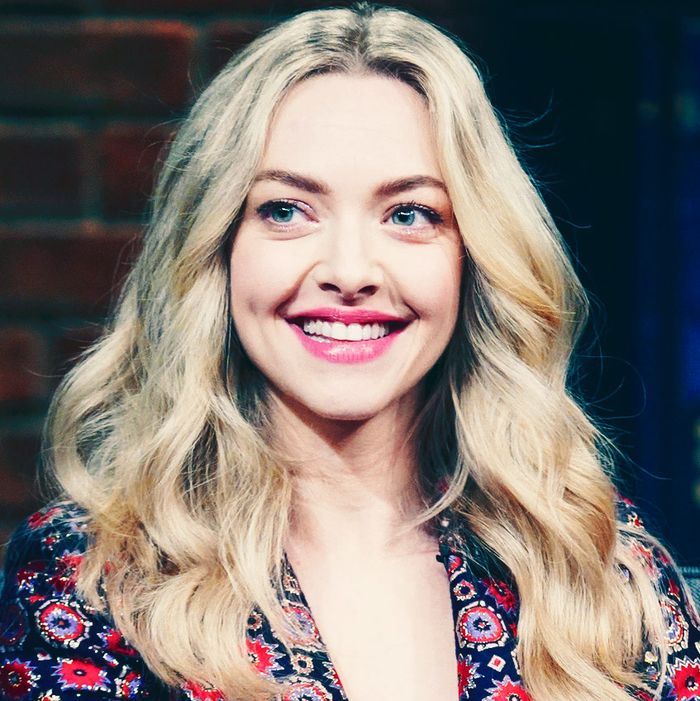 Amanda Seyfried.
Photo: Lloyd Bishop/NBC via Getty Images
Amanda Seyfried has been making the late-night talk-show rounds to promote Mamma Mia! Here We Go Again, the amazing musical film about beachy waves. And on Thursday, during an appearance on Late Night With Seth Meyers, Amanda surprised us all by finally revealing the meaning behind her foot tattoo, which is of the word "minge."
You might be thinking, oh, "minge," of course. I know that word. But then you might also think, Oh wait, do I really? Or am I simply fusing the words Midge, which is a name, and twinge, which is a word that means a 'sudden, sharp localized pain'? And then after that, you're probably thinking, Oh, it's simply just a play on her Instagram handle, which is @mingey. But then you're back to, But what even is a minge?
Here, I'll let Amanda explain it for you:
If you did watch that video, I'll just tell you: It means "vagina."
Amanda told Seth that she got the tattoo with two of her best friends, the actresses who happened to star as her best friends in the first Mamma Mia! film, Rachel McDowall and Ashley Lilley. "It's a term of endearment and in England it means vagina but in the U.S., where I spend most of my time, it doesn't mean anything," Amanda said, adding, "We commemorated our friendship with 'minge' tattoos."
She went on to say that people in the U.K. aren't impressed by her vagina foot tattoo. "They roll their eyes, it's always a judgement," Amanda told Seth. "It's fine because it means so much more to me than vagina."
I guess the only thing that means more than a vagina … is friendship.