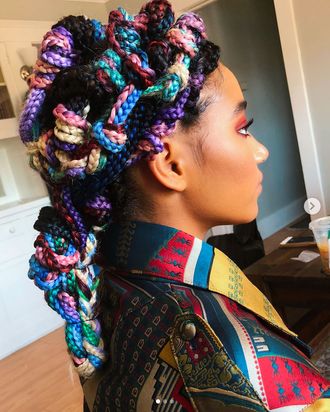 Photo: vernonfrancois/Instagram
Instances of pastel or rainbow "mermaid" and "unicorn" hair tend to spike during the summer months. Honestly, it's high time we throw another mythical creature like Medusa into the mix. But until that happens, may I suggest we all just look to Very Cool Teen Amandla Stenberg for inspiration, because she is just killing this whole summer beauty thing.
Stenberg's an actor and singer who played Rue in The Hunger Games. She's the star of that other new sci-fi dystopian movie full of teens, recently came out as gay, and is someone who, without fail, causes me, a late 20-something "adult" who lives on the internet, to audibly gasp every time I see a photo of her and her hair in public. Just yesterday — a Monday — she looked like this:
These knotted, technicolor box braids (created by Vernon François, the stylist also responsible for this BET awards look last month) are giving me more magical mythical creature vibes than anything from the past two summers. What do you call a Centaur that is a mermaid with a unicorn horn on top, and a regular Pegasus on the bottom? Because that's what I'm getting here. Plus, she paired the look with shimmery ombré eyes (Chanel Ombré Premiere in Desert Rouge for the curious) that are very Fawkes the Phoenix with a dragon tail wearing a pixie's outfit.
There are T-minus three days until the weekend, the optimal time to make rash decisions considering your chosen hairstyle for the summer. Pete Davidson went full-on Draco Malfoy. Pikachu got break-up bangs. I, ladies and gentleman, will be creating an Instagram collection titled ~*amandLa*~ before Saturday rolls around.
If you buy something through our links, New York may earn an affiliate commission.