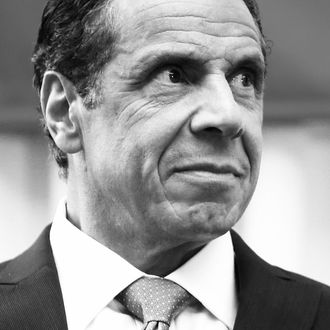 Governor Andrew Cuomo.
Photo: John Lamparski/WireImage
New York governor Andrew Cuomo loves nothing more than an opportunity to play the "big tough Italian guy" — a tendency he took way too far when he decided to open a women's event by, uh, appearing to flirt with the whole room.
The governor made the cringy opening remarks at a Brooklyn Women for Cuomo event, where he thanked the predominantly female audience not once, but six times after taking the stage but before failing to read the room.
"What a pleasure to be here, one of the few men in a room full of women," Cuomo said, completely earnestly. "Could be worse, could be worse. Usually, it is worse."
Being patronizing and downright creepy toward women — perhaps not the best way to win their vote!