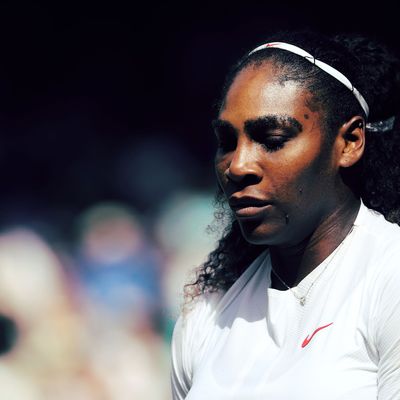 Serena Williams.
Photo: Rob Newell/2018 CameraSport
Serena Williams was defeated in the Wimbledon women's singles final match by 30-year-old German Angelique Kerber, who won in straight sets, 6-3, 6-3.
It was a significant match for Williams. She had returned to Wimbledon after giving birth to her daughter Alexis Olympia Ohanian, and she'd had a very difficult pregnancy. Yesterday, her husband took to Twitter to praise her for playing high-level tennis despite a difficult pregnancy, saying it was "nothing short of remarkable."
If Williams had beaten Kerber, she would have won her eighth Wimbledon title and 24th Grand Slam championship over all, tying her for the record set by Margaret Court in 1973.
When Kerber won match point, she collapsed onto the grass court in excitement before meeting Williams for a hug. "This is something special, to hold this trophy now," she told ESPN.
According to the BBC, Williams said after the match that she was playing for "all the mums out there."
"I can't be disappointed," Williams said. "I have so much to look forward to. I'm literally just getting started. I am just me, and that's all I can be. To all the mums out there, I was playing for you today, and I tried, but Angelique played really well; she played out of her mind. I look forward to continuing to be out here and do what I do best."