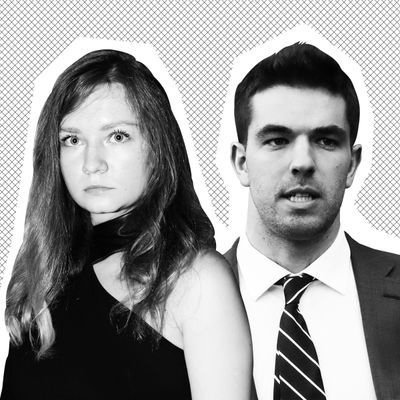 Anna Delvey, Billy McFarland.
Photo: Shutterstock
In an alleged case of grifting that sounds almost too perfect to be real, it turns out notorious socialite grifter Anna "Delvey" Sorokin may also have scammed embattled Fyre Festival founder Billy McFarland.
Delvey has been accused of bilking the international party elite of hundreds of thousands of dollars — and according to "Page Six," her list of alleged victims apparently includes McFarland, who has been accused of fraud-related crimes of his own.
The gossip column reports that at one point during her historic grifting spree, Delvey asked to stay at the Soho loft headquarters of a "dubious" credit-card company owned by McFarland, called Magnises, for a few days. The credit-card company produced black cards that would be linked to its members other credit-card accounts. The company also threw parties at its loft.
But instead of staying for the short period of time that she requested, Delvey apparently refused to leave for months. However, McFarland was reportedly too "polite and nonconfrontational" to actually tell her to go. Per "Page Six":
"He hinted, the staff hinted," explains the source. "She had Balenciaga bags and clothes everywhere. The company wound up moving into a townhouse. That's the only way they got her out! She had been there for four months!"
Is there anything more poetic than an alleged scammer grifting another alleged scammer?