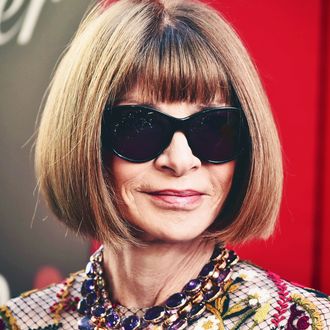 Anna Wintour.
Photo: Theo Wargo/FilmMagic
Condé Nast is trying to kill us. Specifically, those of us spreading rumors about Anna Wintour's possible retirement. At nearly 5 o'clock p.m. on a Tuesday, the media company released a cliffhanger of a statement on Twitter from its CEO, Bob Sauerberg saying something about Anna Wintour.
Anna Wintour has "agreed to work with me indefinitely…" Sauerberg wrote in the first half of a two-part message. (Two parts!) Indefinitely … on what? On some new, exciting post-retirement project? On a 1000-piece puzzle, which will be a nice way to relax after she steps down?
No. Indefinitely "…in her role as Vogue editor-in-chief and artistic director of Condé Nast."
Hm. Call me Merriam-Webster, but the word "indefinitely" is still pretty vague here — as in, not definite. How long is indefinitely? Is Anna Wintour immortal? Who's to say? By the end of this rumor cycle, I will certainly be in the grave.
Every time the news of Anna Wintour's retirement seems to resurface, members of the fashion press age approximately 1,000 years. Despite the fact that Condé Nast has consistently denied her departure, I still feel like I'm waiting for a tiny, bob-shaped bomb to detonate underneath my desk. I have nightmares that an announcement is going to be made when I'm at the beach this summer, and I'll be too sopping wet to access all the drafts I've emailed myself. What if I drop my phone in the sand? What if I'm off the grid somewhere with no internet access? Oh wait, that will never happen because Anna Wintour is supposed to be retiring haven't you heard???
I'm going to need a little more than that, Bob.