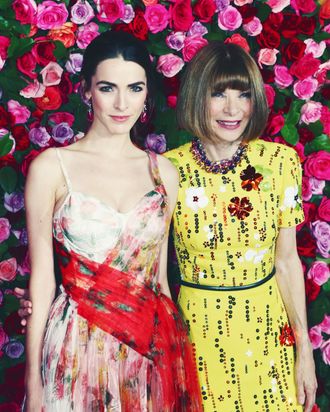 Bee Shaffer and Anna Wintour.
Photo: Bruce Glikas/FilmMagic
If you thought getting a front row ticket at New York Fashion Week was hard, try attending Anna Wintour's daughter's wedding.
Bee Shaffer reportedly married Francesco Carrozzini, the son of late Vogue Italia editor-in-chief Franca Sozzani, on Saturday at Wintour's private home in Mastic, Long Island. According to gossip sites, no social media was allowed, which is a bit ironic seeing that this wedding was long anticipated as the media marriage of the year.
Guests followed the rules for the most part, since we didn't see anything about it on our feeds this weekend. (We were also a bit preoccupied with Justin Bieber and Hailey Baldwin's reported engagement, as well as Lolita Jacobs's pants-less ceremony in Saint-Tropez, and this awesome fashion wedding.)
Of course, the Daily Mail snagged some sneaky paparazzi photos of the ceremony, revealing that Shaffer (who has taken her husband's last name, according to Instagram) wore a long-sleeve white gown and a veil, with her hair up in a bun. The designer of her gown has not yet been confirmed, but we assume it was custom-made — and that a Vogue wedding exclusive is soon to come.
Fashion insiders like Derek Blasberg and Selby Drummond were in attendance, according to the Mail. Other than that, all we know is that Nathalie Love, the daughter of Vogue West Coast editor Lisa Love, decided to turn the #NoSocialMedia mandate into a selfie hashtag, although her post has since disappeared. Someone had to do it!
Congrats to the happy, social-media-free couple.