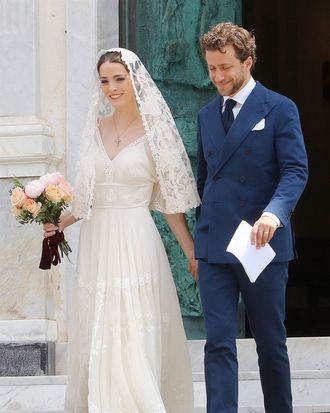 Bee Shaffer and Francesco Carrozzini.
Photo: XPOS/BACKGRID
There are so many good reasons to marry an Italian man, but one of them — if you're Bee Shaffer — is that you get to have a second wedding in Italy.
Shaffer, who is Anna Wintour's only daughter, first wed Francesco Carrozzini at her mother's home in Long Island last weekend. There are few details about the ceremony, thanks to a strict no social-media policy (and a likely future Vogue exclusive). But it's been reported that Colin Firth and Donatella Versace were in attendance, along with about 150 other guests. Afterward, the couple traveled to Portofino for what seemed like a honeymoon but was actually a lead-up to a smaller, second ceremony.
As reported by Italian weekly magazine Chi, Carrozzini's side of the family was present for an intimate ceremony at a local church. Shaffer wore a relatively casual white lace dress with short sleeves and an ankle-length hem, plus an Italian-style veil and open-toe sandals. Carrozzini wore a blue double-breasted suit.
Carrozzini was born in Monza, Italy, just northeast of Milan. But his late mother, Italian Vogue editor Franca Sozzani, had a holiday home in Portofino. Following the ceremony, Carrozzini visited the cemetery where she was buried in 2016.
We wish the newlyweds all the best. Again.