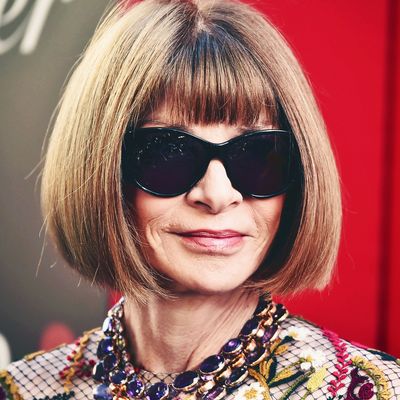 Anna Wintour.
Photo: Theo Wargo/FilmMagic
As a hypebeast might say, Anna Wintour attempted to "get a 'fit off" today in a pair of Air Jordan sneakers. (We're so sorry.)
On Thursday, Vogue magazine dropped what it calls the "ultimate fashion sneaker," in a "delightful," limited-edition capsule collaboration with Nike. Available July 21, the new Air Jordan 1 features a zipper instead of laces, and comes in red or white. On September 7 — just in time for New York Fashion Week — a second shoe will be released: the Air Jordan 3 SE, which is inspired by Wintour's love of Chanel suits and sunglasses, in black or red tweed.
For decades, the Vogue editor-in-chief has adhered to a strict uniform, which usually includes low Manolo Blahnik heels. You would n-e-v-e-r catch her dead in a pair of sneakers. In fact, most wouldn't even dare to wear them in her presence. But in the year 2018, apparently even Anna Wintour can't ignore streetwear's influence.
In an accompanying promotional video for Nike Jordan, Wintour sits at her desk giving the AWOK, or her official stamp of approval. With each stroke of a pen, she shoots a basketball into a small hoop across the room. (Normally, she prefers tennis.) If you're not screaming yet, just wait: the camera then pans to underneath Wintour's desk, where you can see her wearing a pair of all-red Jordans.
See you at Sneaker-Con, AW!