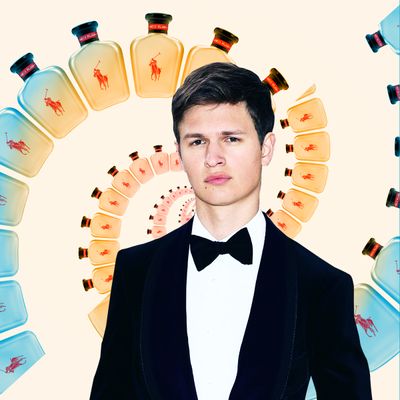 Ansel Elgort.
Photo: Taylor Hill/Getty Images
Call it the Proust effect: Memories are best triggered by smells. Scientific studies confirm that out of all the senses, smells and fragrance offer the best recall. Our new feature, Scent Memories, will ask its subjects to talk about the scents they associate with different emotions and thoughts. Next up is Ansel Elgort, the new face of Ralph Lauren's new cologne, Red Rush. Unlike the original Polo Red cologne, Red Rush combines bright grapefruit with cedarwood and musk inspired by the anticipation of sitting in a car right before you slam on the accelerator (depicted in Ansel's role in Baby Driver). The Cut spoke with the actor about the nuanced smells of New York's seasons, how different types of orange juice relate to happiness, and why he likes the smell of mold.
My first scent memory: One of my first memories as a kid was the rosemary bush that my mother had. I do really remember that smell. It was the smell of the apartment and is really comforting to me. The other memory I have is the changing seasons in New York — it constantly gives the air a new smell. The way the city feels, the way you feel, and the look and smell is constantly changing. I really do love when it turns to winter or spring.
Love smells like: A lot of smells because you think about comforting smells like cooking, but also the smell of someone's body and sweat. There's lots of different ways to define the smell of love.
Friendship smells like: Also sweat. But it's boy sweat, so it smells bad. On the other side, clean shirts. My best friend, his parents always did laundry with lots of detergent and they would wash your shirts for you if you stayed over. So I'd give him a hug and it would smell so clean.
Heartbreak and loss smells like: The smell of a hospital, like really sanitized but also doesn't get enough air. It's terrible.
Happiness smells like: Orange juice, but fresh squeezed only. Sadness smells like Tropicana. The different smells of orange juice can be very subtle, but it's either depression or extreme happiness.
Regret smells like: Minute Maid orange juice. You ordered it thinking it was fresh squeezed but then it's from concentrate. Sometimes you even ask, and it comes out as concentrate. I can always tell. It's not even the same drink, so why call it orange juice?
Vacation smells like: Different. Just different because you're always getting something new. I try not to shower too much on vacation so I can be one with the smells of wherever I am.
Sunday morning smells like: Bed sheets. [Whether they're fresh or not] they always smell good to me. It's funny as you get older you realize that some things you like the smell of don't smell good. Like, I like the smell of mold for some reason. It's comforting. To me it's a good smell even though everyone thinks it smells terrible.
If I could have one scent on my hands forever: My dad's closet. It smells like clothes, a little bit of loose tobacco, old stuff, and leather.
Monday morning smells like: The subway in all its glory. But that also smells different every season. I actually really like [the smell of the subway] too. I love it.
I smell like: I don't know, I'm used to the way I smell. Probably incredible, and I just take it for granted.
If you buy something through our links, New York may earn an affiliate commission.