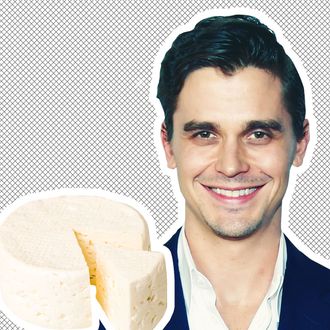 Queer Eye's food and wine expert Antoni Porowski says he finds cooking relaxing — he just doesn't have much time to do it these days, between press for the Netflix reboot's second season and plans for a restaurant. But despite rumors to the contrary, Antoni maintains that he can in fact cook, and in the interest of demonstrating his abilities, he offered to provide the Cut with recipe ideas for relationship milestones (in the time time-honored tradition of engagement chicken).
Below, the avocado advocate who recently partnered with Cointreau offers his advice for readers who lack Meghan Markle's skills in the kitchen, feel uncomfortable going anywhere near raw poultry, and might just want to make a meal that just says, 'so, are we dating?'
What should I make for someone I want to define the relationship? What's a food that says "are we exclusive?"
Since it's summer, the idea of roasting and charring is really beautiful to me. I'm a very sensory person and the summer is a really great time for that: The idea of a BBQ, all of that smokiness, especially with wood chips, is really lovely.
Eggplant is often not properly treated with the respect and kindness and love it deserves. It's often mushy and slimy. But eggplant is beautiful charred — the skin gets nice. Eggplants are finicky, complicated, and often misunderstood. If you know how to treat one well then it shows that you have know-how and dedication.
Lemon Grilled Eggplant with Pomegranate Seeds
1.       Grill the eggplant to get a nice char. Cut it open.
2.       Take some parsley and chop it up finely. Parsley goes really nicely with everything. It adds a nice lightness; it wakes up a dish.
3.       Put a little bit of lemon zest and lemon juice on the eggplant.
4.     Then I would add pomegranate seeds for sweetness and tartness and maybe some toasted pepitas — I'd sauté them in a bit of chili powder.
What about feeding a summer fling? You want to have fun, you don't want to make it seem too serious, but you also want to show that you know good food…
A summer fling is good. It's all about quality over quantity and actually enjoying the person you're with, kind of like a Lana Del Ray song. This is a dessert; it's sweet. Desserts are tricky with summer because I always try to keep it light.
Grilled Pineapple in Rum Caramel Sauce
1.       I'd probably grill up a pineapple.
2.       Then make a caramel sauce on the side with a little bit of rum.
3.       I would basically drizzle that caramel sauce, kind of like a banana foster but with pineapple. And drizzle it over, sea salt and a scoop of a nice berry, I like the contrast with the purple.
On a sadder note, what would you make for someone you're trying to have a tough conversation with … like maybe a breakup?
Breakups are sad; breakups are difficult. I don't want to make a bad dish — the person is already heartbroken. No one deserves to eat bad food. Maybe something a little comforting that makes them feel good, or puts them in a food coma so they can sleep off the heartache of the breakup? I would make a cheese dip. A cheese dip is good — it's for when you're like, you know what, I've had a long day. I'm just gonna eat a big bowl of cheese and I'm not gonna care about it. A nice little queso fresco type dip.
White Queso Dip: I'd do a classic white queso, I'd put cilantro in it, and serve it with some pita points.
A nice stiff cocktail that would pair with that would be a classic margarita.
Original Margarita: Two ounces of tequila, one ounce of Cointreau — with a little bit of sweetness, you don't need to add simple syrup – and one ounce of fresh lime juice. And a very, very salted rim. I'd take a little bit of chili powder and Tajín, which is a Mexican lemon-zest spice with chili powder, and I'd rim the edge of a glass with it.
What if you want to try something new? Maybe you want to open up the relationship…
We're thinking sex. I'm going to stay away from garlic and onion — if both of you have bad breath, it's fine, but if you're opening the relationship to other people, you want everyone to enjoy themselves. I would keep it to something light. I'm going to steal this from the hors d'oeuvres I developed with ABC Cocina.
Avocado Jicama Grilled Shrimp
1.      Basically, cut matchsticks of jicama. Jicama, which is one of my favorite things in the summer, looks like a really horrendous root vegetable, which it is — it's like a hybrid of a potato and an apple but you can eat it raw.
2.      The shrimp — I would probably toss in a little bit of orange-flavored liquor for a bit of a nice orange zest and add a bit of a cayenne to add a little heat. Then I'd sprinkle them with fresh cilantro.
3.      Oh God, I can't believe I'm saying it, I really try not to use this ingredient because it's talked about so much — but you know what, you need a creamy factor, so a bit of avocado wouldn't be terrible. Screw it, I love avocados! Let's use avocados — they add a textural element.
Still stumped on how to actually assemble everything? Maybe we'll find out in Antoni's new cookbook…
This interview has been edited and condensed.