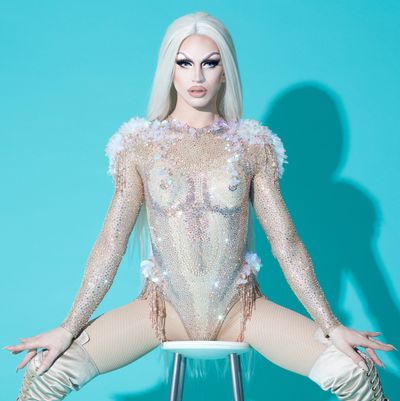 Aquaria.
Photo: Marco Ovando
Twenty-two-year-old Aquaria became the youngest winner of RuPaul's Drag Race when she grabbed the season ten crown this summer. The first contestant to win both the ball and the Snatch Game, she breezed through the final lip-sync challenge and celebrated her win with the release of her debut pop single, "Burn Rubber." You might say it's the dawning of the Age of Aquaria for the rising star, who is currently touring the world.
Aquaria may be young, but she knows exactly where to go in New York for a last minute look. She also knows how to throw a good party and how to win everyone's vote. Below, she shares her tasteful insights.
How do you thank people for a gift?
Generally with a big consensual hug and tons, and tons of "thank-you"s. If I can foresee how I can use the gift in the future (conventionally, for a look, etc.), I know it's always nice and polite to share that insight with the giver.
What's your dream vacation?
Tropical is always ideal for me.
Is there anything you would never wear?
"Make America Great Again" hats.
What is a trend that you like right now?
Checkerboard looks. I remember wearing a full checkerboard look with checkerboard Vans when I was in elementary school and got bullied so much for it, so it's nice to see it being applauded and enjoyed.
One you don't like?
Paillette fabric EVERYWHERE. If everyone's rocking the same cool hard-to-find fabrics, they might not be as cool and hard to find as you think. For a more original approach, find odd or unique ways to incorporate these fabrics into the design of a garment.
What's the secret to throwing a good party?
Easy! Hire a diverse group of hosts from every spectrum of the community and bring in some fierce local DJs that play what the people want. Very often clubs will play house music just because that's the vibe they want to give off, which is fun sometimes, but other times you need unapologetic homosexual DJs like Ty Sunderland who aren't afraid to slay the kids with a mix of Lady Gaga, Hilary Duff, and Janet Jackson.
Song you can't get out of your head right now? 
"Dance to This" by Troye Sivan; "Bed" by Nicki Minaj; "No Angel" by Charli XCX; and of course, "Burn Rubber" by Aquaria.
Most used emoji?
I'm a sucker for the classics: red heart, star, and the red lipstick kiss.
What's always in your bag? 
Phone, keys, wallet, eye drops, chapstick, nail glue, sunglasses.
What's your guilty pleasure?
FailArmy videos.
What's you're most-visited store in New York?
I love to visit Abracadabra for any of my last-minute or local theatrical needs.
What's some etiquette advice you live by?
Tip your drag queens, bartenders, and don't rub your chopsticks together at the sushi restaurant. Also, just in general, don't be a dirtbag human. If it doesn't seem nice, appropriate, or right, don't do it.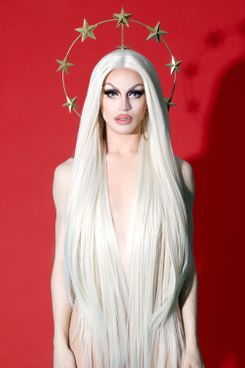 What's your favorite …
Scent?
Raspberry, lavender, or vanilla.
Flower?
Bird of paradise.
Wig shop?
Manhattan Beauty.
Nightlife spot in New York?
"Heaven on Earth" at China Chalet.
Snack?
Carrots and Thai coconut hummus.
Museum/gallery?
MoMA.
Drink?
Yellow Red Bull; add vodka if it's one of those days.
Makeup remover?
Neutrogena hydrating makeup cleansing towels.
This interview has been edited and condensed.
If you buy something through our links, New York may earn an affiliate commission.