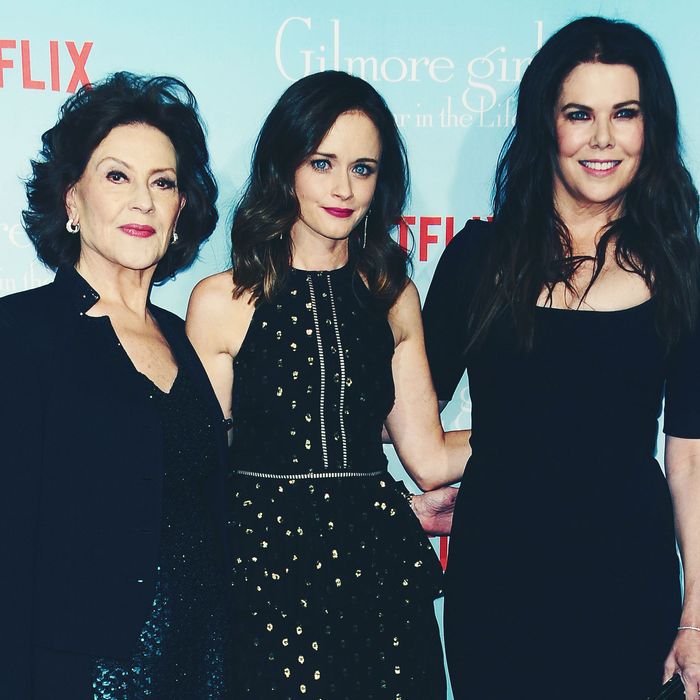 The eponymous girls.
Photo: Jason LaVeris/FilmMagic
What does Gilmore Girls look like under a Trump presidency? I shudder to think. Particularly because that means, in the Gilmore universe, Logan Huntzberger just sat for an off-the-record meeting with the president. Damn. Logan, man, come on. It seems we may find out what Gilmore Girls looks like under a Trump presidency, however, or — it seems that we may not. It's unclear.
La la, la la, laa la.
On Sunday during a Television Critics Association press tour, Cindy Holland, VP of original content at Netflix, addressed questions surrounding a possible follow-up to Gilmore Girls: A Year in the Life, Netflix's better-than-expected reboot of the CW series popular with me and other girls who "liked books" in their early teens. "We haven't discussed it at all," she said. Ahh.
"But [creator Amy Sherman-Palladino] knows that we are very big fans of Gilmore Girls," she added. Hm. This combined with the fact that Netflix chief content officer Ted Sarandos said, in February of 2017, that the service was in "preliminary" talks about another season, proves that either there will be another season or there will not.
Rory Gilmore on a Gilmore Girls book tour? Rory Gilmore in talks with streaming service MovPics for her Gilmore Girls series adaptation? Logan, father to Rory's daughter (Kelly), concerned with "fake news," wondering — could it perhaps be an issue with the press? Jess coming in at the last minute to fix something? Dean in the grocery store again? Hm. I guess we'll see.
(Or we won't.)