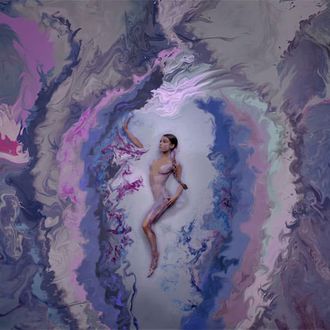 Ever wondered how a Lush bath bomb gets made? Well! First, a Twitter user demands the brand make one following the release of Ariana Grande's visually pleasing "God Is a Woman" music video, in which the singer hangs out in a paint bath of gray, lavender, and sage swirls. Then, Grande replies that she'll "do anything" to make it happen. Threads are created, DMs are exchanged, and finally, a glorious effervescent bath bomb is born.
Following a quick tweet exchange between an ingenious fan and Lush earlier this week, Jack Constantine, the brand's product inventor and chief digital officer, got cracking on a "God Is a Woman" bath bomb prototype in the Lush Labs. He's been sharing the journey on his Instagram ever since, and it's riveting.
Grande commented on the post above that she was "freaking out." Constantine lamented that the potion was still "too gray." But yesterday, he got the color scheme just right.
According to his most recent batch of Instagram Stories, he's officially "done" and sending the final product off to Grande. The shape: spherical with a shallow concave top. The color: mostly lavender with a large serving of glitter. No word yet on what this concoction will smell like (sugar? paint?), when it will be available to the public, or what bath bomb afficionado John Mayer thinks.