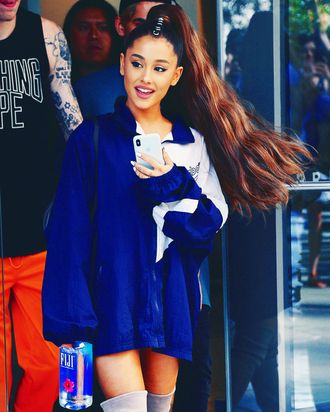 Ariana Grande.
Photo: Robert Kamau/GC Images
Tiny-tattoo evangelist Ariana Grande has yet again added onto her collection, this time with one inspired by her fiancé Pete Davidson's late father. According to People, the 25-year-old pop star got the numbers "8418" inked on the top of her foot, which was the firefighter badge number of Davidson's dad.
If this specific tattoo sounds familiar, it's because the Saturday Night Live comedian actually has the same numbers inked on his left forearm, though his art is quite a bit larger and has been on his body for much longer. Davidson's father, Scott Davidson, was a New York-based firefighter who died in the September 11, 2001, terrorist attacks.
While Grande has gone to the tattoo parlor with her 24-year-old fiancé multiple times, this might be the first tattoo that she's gotten that explicitly honors Davidson; the only other tattoo we know she has gotten since her whirlwind engagement is one that reads H2GKMO in honor of her favorite phrase, "Honest to God knock me out." Davidson, on the other hand, has been eager to get inked with multiple tattoos inspired by Grande: an image of the black bunny mask that she wears on the cover of her album Dangerous Woman, her initials, and a tiny cloud (that Grande has, too).
Getting tattoos of your lover: classic Big Dick Energy behavior.