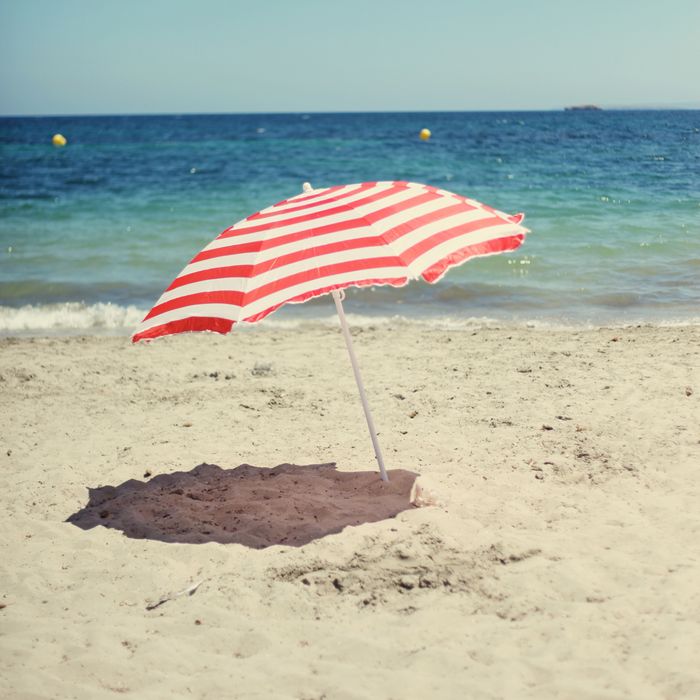 A weapon.
Photo: Ailbhe O'Donnell/Getty Images
Every summer, humans congregate on beaches — the planet's sand gutters — even though they're full of potential dangers like sharks, harmful UV rays, Leonardo DiCaprio, and now, bloodthirsty beach umbrellas.
According to People, on Sunday, a 46-year-old woman became the second person to be impaled with a stray beach umbrella in less than a week. The woman was laying out on the beach when a strong gust of wind swept up the umbrella, and sent it flying down the sand, with the wooden tip stabbing the woman in the chest just under her left collarbone. Police and an ambulance were called to the scene, where they cut the umbrella in half before transporting the woman to a local hospital. Baltimore's WMAR reports that she is expected to make a full recovery.
Earlier last week, a 67-year-old tourist from England was speared in the ankle by another rogue beach umbrella on a beach in New Jersey.
"It was a beautiful day and a gust of wind blew the umbrella," the woman, Margaret Reynolds told NJ Advance Media. "It was just an accident."
Or was it?
In light of the latest attack incident, People reports that Ocean City reissued a 2012 safety dispatch from Beach Patrol Sergeant Ed Fischer, in which he writes, "Umbrellas swept by wind gusts often barrel down the beach at speeds of 20 mph and more."
Fischer urges people to rock their umbrellas back and forth until it's between 18 and 24 inches below the sand, and to tilt it into the wind. Also, bring your own because apparently "It is almost never the person who owns the umbrella that gets hit, but someone else's umbrella that hits some unsuspecting person."