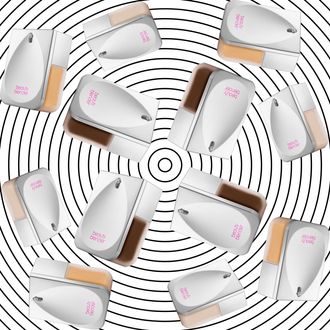 Any beauty vlogger worth their likes knows that Beautyblender is the best tool for makeup application — despite anatomical imitators. The squishy sponge expertly and gently smooshes and blends foundation into skin to make it look airbrushed. Now the brand is getting straight to the source, by creating their own foundations which are meant to be the perfect match for the sponge.
Called The Bounce Liquid Whip Long-Wear Foundation, it's a lightweight full-coverage formula that can also be sheered out if applied with a damp Beautyblender. If your skin tends to get dry by the end of the day, this formula is made with hyaluronic acid to make sure skin is hydrated while white birch extract keeps skin clear.
The foundation comes in a pump bottle, which looks almost perfume-like, so you can have maximum control — two pumps of the foundation is all you need. When you pump out the foundation, it collects into a reservoir so you can dip your Beautyblender into it and save the back of your hand from getting foundation all over it.
This is the brand's first shot at makeup and with that the inevitable question: How many shades are there? It's not quite up to the Fenty or Colourpop shades (which sell 40 and 42 respectively), but the brand offers 32. Beautyblender has yet to release pictures of the entire line but some Twitter users are calling the brand out for not seemingly including enough options for darker skin tones.
The Bounce foundation launches exclusively at Sephora July 24 and will hit stores in August.