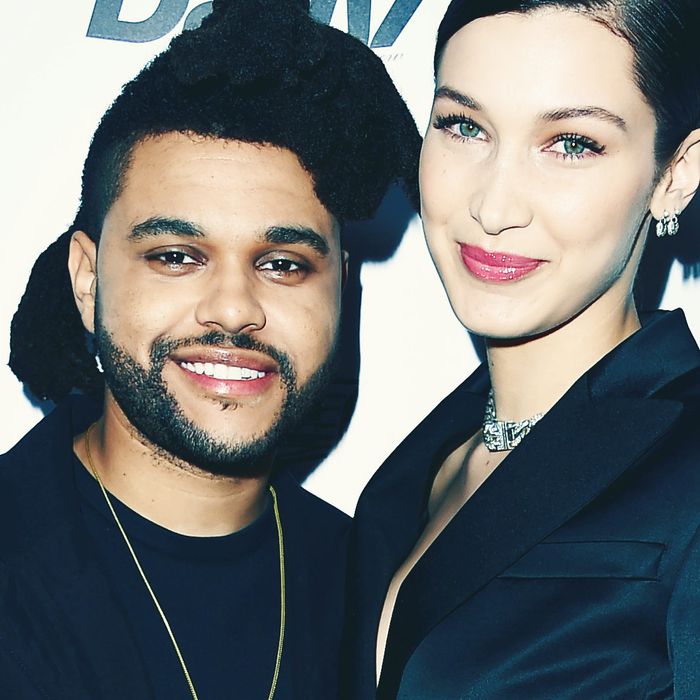 The Weeknd and Bella Hadid.
Photo: Steve Granitz/WireImage
At what point will artificial intelligence surpass human intelligence? When it does, will computers and those spooky robot dogs from Boston Dynamics force humanity into submission, reducing us to brainwashed flesh batteries like in The Matrix? Are the Weeknd and Bella Hadid back together?
These are some of the many questions raised by the pair's visit to Tokyo's Robot Restaurant this weekend. As People pointed out, the horny ballad crooner posted a series of videos from the restaurant to his Instagram story on Sunday, some of which included his supermodel ex, and one of which shows them hugging. She is also credited with taking this picture of him.
This is not the first time the exes have sparked rumors that they're back together. In April, the pair was spotted partying at Coachella together, and a witness told Us Magazine that they were "completely all over each other" and "100 percent back together." Then in May they were spotted kissing on the mouth at a Magnum VIP Party in Cannes. Suspect, no?
According to CNN, the Robot Restaurant includes dinosaurs, laser lights and, of course, robots, and is "total chaos" and a "high-voltage performance."
Is that the kind of show that would trigger one's existential anxiety about the forthcoming AI-apocalypse and send you running to the arms of a former lover? Or one that you could enjoy with your ex and, amidst the flood of techno and strobe lights, turn to them and say, "I am grateful for our time as a couple and perhaps a small part of me will always wonder 'What if?' but I'm glad we can just be friends now." To each their own, I guess.