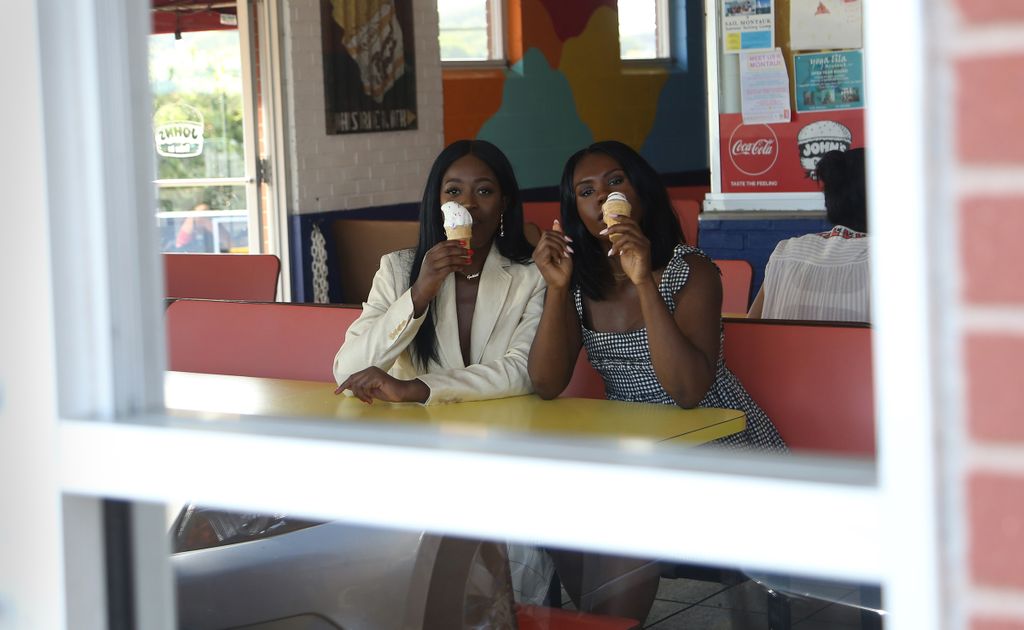 Open Instagram right now, and you're likely to be scrolling, tapping, and hearting your way through a full feed of enviable vacations. Inspired by the surplus of summer-fun content, we set out to escape the city and experience the best of the season, ourselves. Over a recent weekend, we sent the Cut's fashion partnerships editor, Indya Brown, and her close friend Nana Agyemang—founder of EveryStylishGirl, an online platform that shares stories of inspiring, stylish women—to Montauk for the first time.
Since half the fun of going away is documenting vacation looks, Brown and Agyemang packed accordingly, styling themselves in THE OUTNET.COM pieces ready for everything from a fashionable beach day to a hot night out. (Tip: If you need something new to wear out east this summer, remember THE OUTNET offers same-day delivery to the Hamptons.) Below, see weekend-away highlights from the duo's two sunny days in Montauk, along with their descriptions of the trip.
Brown: During the weekday, you're sort of bogged down with dressing to impress your boss and coworkers, but on the weekends I like to dress purely for myself. Especially when I go out with girlfriends for brunch, I really like to turn up the heat. Once I saw these Marni pants, I fell in love.
Agyemang: I chose a satin white top and striped cotton-poplin midi-skirt because I love the comfort and class this look gives off. I get to show my sexier side with the slit on my skirt, but I still feel comfortable because of the length and loose fit.
Brown: To no surprise, the best thing about Montauk is the beaches. At the farthest part beyond town, there are practically 360-degree views of the ocean at every turn. On the advice of some locals, we made our way to Gin Beach, which we were told is the most scenic and tranquil. It was a chillier day, so I threw on these airy linen DVF drawstring pants over my one-piece. And I threw our beach reads in my cute straw bag.
Agyemang: Bold colors are my calling, and the beach is the perfect place to embrace them. Gin Beach and its powder-blue water brought my yellow-knit cover-up to life and made me feel like a walking goddess.
Brown: The Surf Lodge is really the heart and soul of Montauk nightlife. But, how do you dress for a venue with sand everywhere? I tried to go with something low-maintenance yet dressy at the same time—an Iris & Ink silk pajama set I repurposed into a nighttime outfit. I was not expecting to get as many compliments as I did that night.
Agyemang: Since I'm pretty tall, if there is ever an opportunity to accentuate and show off my legs, I am here for it. This Solace London color-block skirt needs no introduction—it's sexy and sleek and is the perfect piece to wear to a club on the beach. My one-shoulder top finished off the dramatic look with an elegant touch, and the look was comfortable enough to dance in all night long.
Brown: When you think about the Hamptons, lobster and oysters immediately come to mind. But sometimes you just want a great burger—so we stopped into John's Drive In. It's been around for 50 years, so it's something of a Montauk institution. This playful, gingham Alexa Chung dress vibed nicely with the diner's retro '60s backdrop.
Agyemang: The power suit is my modern, stylish go-to—literally. I mean, I wore it to get ice cream; it doesn't get anymore casual than that. When I am on the go or running to a business meeting for EveryStylishGirl, a two-piece pant suit is always what comes to mind. So I had to pack one. This lightweight suit made me feel powerful and surprisingly very comfortable throughout our sightseeing and last-day lunch.
Photography by Travis Matthews.
This is paid content produced for an advertiser by New York Brand Studio. The editorial staff of The Cut did not play a role in its creation.