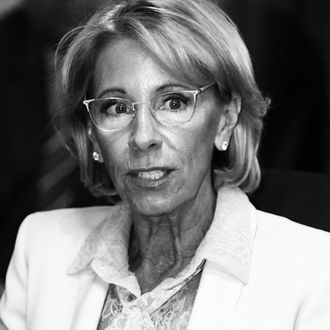 Betsy DeVos at a Cabinet meeting.
Photo: Olivier Douliery/Getty Images
Someone set Secretary of Education Betsy DeVos's 163-foot yacht adrift in northern Ohio on Sunday morning. The $40 million vessel was untied sometime Sunday morning, causing The Seaquest to hit another dock.
The collision caused roughly $5,000 to $10,000 in damages "from large scratches and scrapes," according to the Toledo Blade. None of the crew aboard the ship were injured, according to reports, and police are reviewing security footage of the ship to find out who untied the yacht from its dock.
There's no indication as to motive for the vandalism yet, but Secretary DeVos has certainly not endeared herself to the American public during her tenure. She was sued for rolling back campus sexual-assault protections in January, and was accused of "not listening" to survivors of the Marjory Stoneman Douglas school shooting in March. Her stance on public schools is also unclear, which is worrying considering her job title.
The Seaquest is one of ten yachts that the DeVos family owns. Considering the fact the secretary of Education and her husband have a net worth of $5.1 billion, $5,000 in damage to one yacht in a fleet of several doesn't feel too detrimental.
Only time will tell how the rest of the Trump administration, who've already been shunned from restaurants, will react when they find out their large, expensive boats may not be safe either.