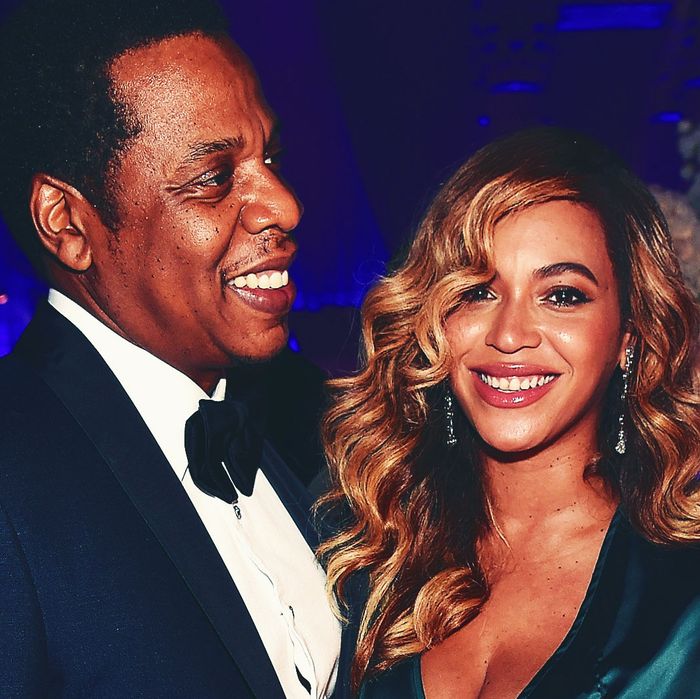 Jay-Z and Beyoncé.
Photo: Kevin Mazur/Getty Images
Taking a much-needed break from their OTRII tour, Jay-Z and Beyoncé took their daughter, Blue, on a normal, family beach trip. Except the beach was Cannes and the "normal" parents were Jay-Z and Beyoncé. As is always true whenever Beyoncé posts a photo drop from her trip, the best part is the fashion. Let's break it down, shall we?
Detail 1: Blue's tie-dye shirt
Blue is becoming a style icon in her own right (she has her own stylist). For the laid-back trip, she opted to buy into the tie-dye trend. She paired it with pink ruffled shorts and pink cat ears, creating a monochromatic look. Two points for following current trends, an extra point for copying Ariana Grande.
Detail 2: Beyoncé's dress
Vogue wrote a whole article on her patterned sundress. So appropriate! So practical! So in-line with Bey's affinity for prints!
Detail 3: Beyoncé's lucite heels
Derailing her "normal beach mom" look were Beyoncé's lucite heels. They looked incredible and much better than a typical nude pump. Take note, moms everywhere.
Detail 4: Jay-Z's HypeDad look
Beyoncé stole the show, naturally, but her husband Jay-Z looked pretty on-trend as well. He wore a striped polo (dadcore) with black joggers and sneakers (Hypebeast). He also seemed to not know fully how Boomerang videos worked, which is very dadcore.
Detail 5: Bey and Jay's matching sunglasses
This is the best part of the trip's wardrobe. Beyoncé and Jay-Z showed that matching couples outfits doesn't have to be insufferable. As long as it's a small detail like round, gold-framed sunglasses, go right ahead.