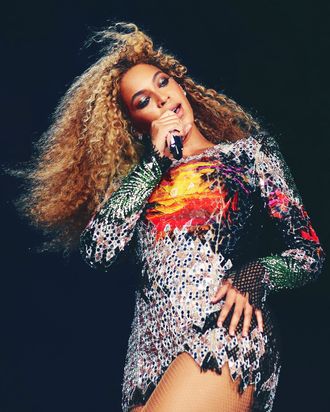 Beyoncé Knowles.
Photo: PictureGroup/REX/Shutterstock
In a new report from Yashar Ali at HuffPost, published Monday afternoon, Vogue editor-in-chief Anna Wintour has allegedly granted Beyoncé Knowles "unprecedented control" over the magazine's September issue, which hits newsstands August 14.
Beyoncé reportedly hired 23-year-old photographer Tyler Mitchell to shoot her cover photo, which would make him the first black photographer to shoot a cover in Vogue's 126-year history. Our source close to Mitchell corroborates this report.
According to Ali's sources, Vogue and Beyoncé signed a contract that would give her "full control" over the cover, the photos of her inside the magazine, and the captions, which she has written herself in long-form. Beyoncé loves a good contract, so at least that bit checks out.
The last time Beyoncé covered Vogue's September issue was in 2015, when she was shot by Mario Testino and styled by Tonne Goodman. (She did not grant Vogue a sit-down interview then, and she reportedly won't now.) Testino has since been accused of unwanted sexual advances by 13 male models and assistants, leading Condé Nast to cut ties with the photographer. Meanwhile, Goodman announced this summer that she would be stepping down from her staff position after 18 years to become a contributing editor. She told the Times today that her exit was "bittersweet."
Vogue's September issue is historically the biggest of the year — both page-wise and in terms of hype. This year's feels particularly momentous, with rumors of Anna Wintour's departure from the magazine persisting, despite Condé Nast's consistent denials. If you recall from The September Issue, Wintour typically exerts meticulous control over the magazine's content from start to finish.
Beyoncé's takeover only fuels these rumors. Ali also reports that Stormy Daniels will be featured in either the September or October issue of Vogue, photographed by Annie Leibovitz. No matter what happens, this will surely be a memorable issue.