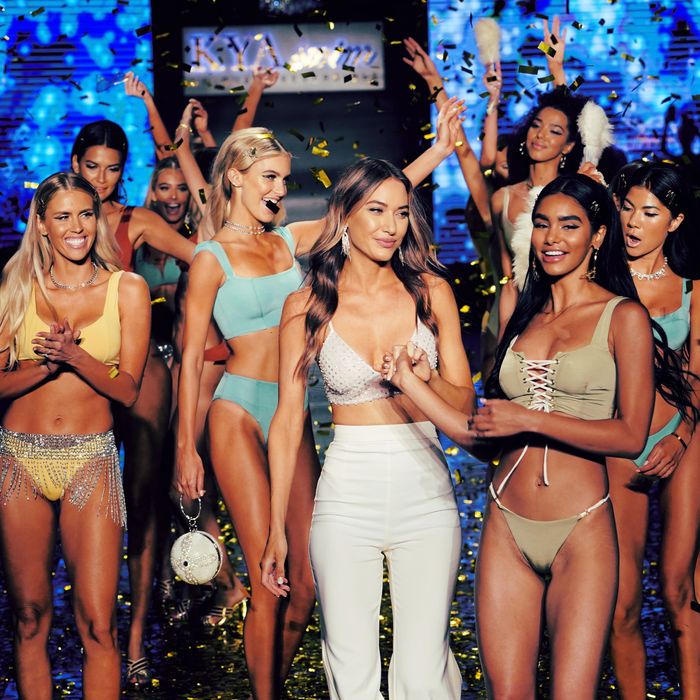 KYA Swim designer with models at the show.
Photo: Rodrigo Varela/2018 Getty Images
A new report confirms which brand reportedly turned away black models based on their race at a Miami Swim Week casting. Refinery29 revealed that KYA Swim, a Calfornia-based line that specializes in reversible swimwear, reportedly turned away multiple models of color explicitly because of their skin color.
Joia Talbott was the first to bring this issue to light when she posted a video to Facebook last week, which was later reported on Racked. "They told us they didn't want any more black models and that Afros were a no-no," Talbott said in the video. She later told Refinery29 that she wasn't offended when they said no afros, but was upset when they turned away at least a dozen black models. "People are saying on social media that this is the nature of the business and I'm just mad that I didn't get chosen," she said. "That's not it at all. You get told no every day in this industry."
Multiple models corroborated Talbott's experiences at the KYA Swim casting, prompting the label to release a statement to Refinery29:
"Everyone at KYA Swim is deeply disturbed by the allegations brought by Joia Talbott and other models about the casting event at Miami Swim Week," a spokesperson for the brand said. "KYA Swim is proud of its record of diversity and we are in the midst of looking into the events of last Thursday to review the actions of the production company in charge of the casting call."
The final KYA Swim show did feature one model with longer, naturally curly hair in their show and featured that look on their Instagram yesterday. However the show was mostly composed of light-skinned women.
After the casting, Talbott and some of the other models turned away (including former America's Next Top Model contestant Kacey Leggett) posted a photo together with the caption, "When a casting director tells you they don't want any Afros or women of color … you STILL show them just how powerful you are."