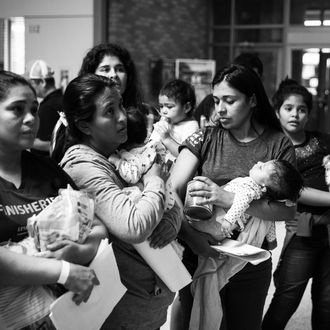 Immigrants who were recently released from a detention facility.
Photo: Loren Elliott/AFP/Getty Images
After the United States government separated children from their parents at the border, they subjected them to treatment that amounts to torture, according to a new court filing. Border Patrol and ICE are being accused of beating, starving, and abusing children being held in immigrant detention centers, according to court documents, totaling more than 1,500 pages, filed by the Center for Human Rights and Constitutional Law (CHRCL).
These documents contain over 200 allegations of abuse from various detention centers, according to HuffPost. In one, a 10-year-old named Dixiana says she was placed in an overcrowded cell, and served an inedible frozen ham sandwich for breakfast.
"The ham was black. I took one bite, but did not eat the rest because of the taste," she told a lawyer, according to HuffPost. Later, she says, she was put inside a chain-link cage, where she was kicked awake by a guard looking for a different child detainee. Many other children report being kicked awake by Border Patrol agents as well.
Multiple children and mothers reported difficulty in obtaining clean water; some described a funny taste, or stomach pain after drinking the water. Some grew so desperate for a source of hydration that they began to drink toilet water.
Girls held in the facility reported that they were forced to strip naked in front of the guards before showering. Along with physical abuse, children also describe verbal abuse, including one child who says he was called weak after telling Border Patrol officers his mother had been killed.
ICE and Border Patrol have a long history of being accused of human-rights abuses and substandard care of detainees. In March of 2018, dozens of African migrants being held in Texas detention centers reported being beaten and called racial slurs. In 2016, Human Rights Watch released a report that revealed that several recorded deaths in detention facilities over a three-year period were the result of administration failure.
To learn how you can help families who were separated at the border, click here.