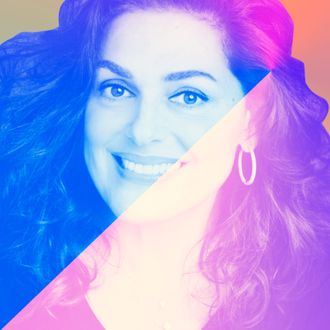 "I was the kind of person who'd stay up until four in the morning asking my friends, 'Why are we on this planet?'" laughs Laura Mercier. "I finally stopped when I found a focus in my art."
Overused though the term may be, Mercier really is an OG celebrity makeup artist. She was Madonna's go-to through the '90s, her work has graced countless magazine covers, including Vogue and Vogue Italia, and she was one of the first makeup artists to create a namesake line.
And to think she wanted to become a French professor. Fortunately, drawing, painting, and beauty school won out over language. While studying at the venerable Carita aesthetician school, her talents caught the eye of an instructor, the makeup artist Thibault Vabre.
"Thibault did everyone," remembers Mercier. "Catherine Deneuve, Isabelle Adjani. He took me on as an assistant, so I cleaned his makeup boxes and repowdered the models noses."
When she moved to New York, she roomed with her best friend, a hairstylist on the rise called Serge Normant, and began working with photographers like Michael Thompson, Patrick Demarchelier, and Steven Meisel, who introduced her to Madge.
"For years and years, I did nothing but work. I was happy, but it was exhausting, traveling the world with my heavy makeup case," she remembers. "I started thinking, 'Am I going to still be doing this when I'm 70?' This is a very fickle business, and my character is to think ahead. Creating my own makeup line was the logical thing."
Her eponymous line launched in 1996, and cult favorites quickly arose, like foundation primer and tinted moisturizer.
She has since sold the line, but remains involved in product creation (a new lipstick that was four years in the making comes out soon). And though she says she'll always call New York home, she now spends most of her time in France catching up on all those years of nonstop makeup-case lugging.
"I read again. It's wonderful!" she laughs. "The fact that I have time to sit in a chair and talk about life for some time is extraordinary."
Mercier spoke with the Cut about being content, her love of amber, and why black-tie events stress her out.
Favorite time of day and why? Depends where I am. In Paris, nighttime; in Provence, the morning because of the light and the weather. It changes depending on where I find myself.
Scent of choice: My oldest love is amber, but I love many different kinds like rose, geranium. I have a love for scents in general.
Who cuts your hair? Serge Normant.
Fashion label you're most often wearing: I like the bohemian or de-structured style. I love Yohji Yamamoto, Ann Demeulemeester, Céline cashmere coats that are more of a wider cut. I love clothes that I can move in.
Purse of choice? My iconic chocolate Hermès Birkin bag. I have had it for 30 years. I have many purses, and often fall in love with a certain shape. I have a few vintage bags that I have collected over the years that I still love, too.
What fashion look do you struggle with pulling off? When I have to go to a very fancy event, as I always think I have nothing to wear.
Favorite flower? Love all kinds, but I love peonies, tulips, garden roses, and wild country flowers
What phrase or word are you known for saying? DAMMIT, SURRRRE!!!
What drives you crazy? Graffiti and tags on beautiful buildings and bridges, and littering.
If you could only pick one makeup tool, which would it be? Tweezers.
What talent do you wish you possessed? I am not missing anything that I don't already have. I think we have to be happy with what we have rather than wish we could be or have something we don't.
Which TV show have you most recently binged on? The Crown and Downton Abbey.
What or who makes you laugh? My friends and animals; certain French comedians like Muriel Robin and Gad Elmaleh. What makes me laugh is doing silly things with my friends. It is much more of an intimate moment for me.
Favorite meal and where? I have many. A simple pasta dish in the most simple restaurant in Italy. Also my Dad used to make the most fantastic duck à l'orange. I miss that!
What is your comfort food? Rice pudding, hot chocolate, macaroni with butter or something as simple as pain au chocolat.
What do you wish you could invent? Maybe a magic chocolate that doesn't make you gain weight, but makes you lose weight without jeopardizing your health.
Favorite spot in the entire world? I have seen so many beautiful places, but my favorite is the Seychelles Islands.
What product in your domain is misunderstood and should be a best seller? Secret Camouflage — our concealer/corrector combo. It's the most challenging to use given that it's dry, has a thick formulation and each palette comes with two colors. It is the best secret product if you use it right but you have to find your perfect, personal approach to it. Here's how you do it: Warm it up using your hand and then paint the product using your fingers or a brush and push the pigments into your skin. If you want to use it for the undereye, you must mix with an eye cream as the product is too dry in formulation to be used alone. If you have rosacea — work with your fingers to build the product. If you have a pimple — use a brush for a more precise application. If you have perfect skin, you should never use it.
What do you foresee as the top beauty trends in 2018? Glowing skin! We have been doing it for years now, but it's finally coming to the forefront. As I have been back in Europe, I am noticing more of an ease with makeup, simple — just an eyeliner, just a lipstick. It's more playful, lighter, and less heavy.
If you won the Power Ball tomorrow, what are the first five things you would do? (After, of course, donating the majority of it to your top charities …) Yes indeed! Giving first to my top charities (Laura Mercier Ovarian Cancer Fund, animal and environmental charities), I would love to build homes for homeless people and provide an infrastructure to help them along in life. There are so many homeless everywhere, I would give back. I would also establish a rescue center for animals in every city and village possible so they are not euthanized. I would secure my family financially. And then … buy another apartment in every city that I love! At that point, I think I would run out of money.
If you buy something through our links, New York may earn an affiliate commission.