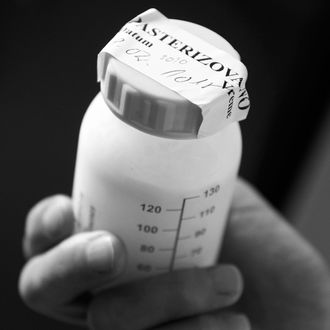 Breast milk.
Photo: ANDREJ ISAKOVIC/AFP/Getty Images
At the World Health Assembly in Geneva this spring, officials expected a major resolution encouraging breastfeeding worldwide to easily receive enough votes from government delegates to pass — until the Trump administration opposed it.
According to the New York Times, the U.S.'s decision to side against breastfeeding shocked World Health officials and set off a contentious debate, which more than a dozen people from several countries recounted for the report. The specific part of the resolution with which Americans officials reportedly took issue was the language that called on governments to "protect, promote and support breastfeeding," as well as a passage that asked policy makers to no longer promote food that could have detrimental effects on the health of young children.
While Ecuador had plans to introduce the initiative, the country later decided to drop it after the U.S. reportedly issued threats of economic retaliation. Proponents of the resolutions then struggled to find a new sponsor, as more than a dozen countries feared retaliation. It was only when Russia introduced the resolution that American officials backed off.
Patti Rundall, the policy director of the British advocacy group Baby Milk Action, said she was "appalled and also saddened" by the U.S. government's alleged threats. "What happened was tantamount to blackmail," she said.
In an email to the Times, the Department of Health and Human Services, which led the charge to make the modifications, said the original resolution "placed unnecessary hurdles for mothers seeking to provide nutrition to their children."
According to 2016 Lancet study cited in the Times report, universal breastfeeding would prevent 800,000 child deaths across the world every year, as well as yield $300 billion in savings from reduced health care costs.