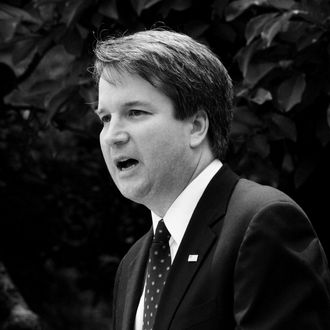 Brett Kavanaugh.
Photo: Dennis Brack/Bloomberg via Getty Images
Soon after President Donald Trump won the 2016 presidential election, he made a vow to fill the Supreme Court with "pro-life" judges — a promise that he kept when he announced Monday night that his SCOTUS pick was Judge Brett Kavanaugh of the D.C. Circuit Court of Appeals.
When Justice Anthony Kennedy announced his resignation on June 27, it was immediately clear that Roe v. Wade, the landmark 1973 ruling that legalized abortion in the U.S., would soon be under threat. While none of Trump's 25 potential U.S. Supreme Court justice picks were advocates for reproductive rights, the extremity of their stances on LGBTQ issues and abortion slightly varied.
Kavanaugh has not explicitly vowed to overturn Roe v. Wade, nor has he made public statements indicating his intent to; he isn't like William Pryor, a judge of the U.S. Court of Appeals for the Eleventh Circuit and another potential SCOTUS nominee, who once called Roe v. Wade the "worst abomination in the history of constitutional law." According to a source close to the White House, who spoke to the Washington Examiner about Kavanaugh, "There are concerns in the pro-life community that his decisions in some cases mean he's not as solidly pro-life as we would like him to be."
But that isn't to say that Kavanaugh has never denied women their reproductive rights during his tenure. Just last year, he infamously ruled against an undocumented teenager in a detention facility who had petitioned for the right to access an abortion. At one point during the hearing, Kavanaugh suggested that allowing the young woman go through with the procedure would make the government "complicit" in something that is morally objectionable. In addition, in 2015, he argued in a dissent that Barack Obama's contraception mandate infringed on the rights of religious organizations.
Following Trump's announcement, multiple reproductive-rights organizations spoke out against Kavanaugh's nomination.
Dawn Laguens, the executive vice-president of Planned Parenthood Federation of America, said in a statement: "We oppose the nomination of Brett Kavanaugh to the Supreme Court, and call on the Senate to do the same. There's no way to sugarcoat it: with this nomination, the constitutional right to access safe, legal abortion in this country is on the line. We already know how Brett Kavanaugh would rule on Roe v. Wade, because the president told us so."
Melissa Fowler, a senior director at the National Abortion Federation, called Kavanaugh "an extreme judge" in a statement. "Kavanaugh tried to block an undocumented minor in government custody from exercising her constitutionally protected right to an abortion," she said. "We need a Supreme Court justice who will honor established precedent, including the constitutional right to privacy and Roe v. Wade, and that is not Judge Brett Kavanaugh."