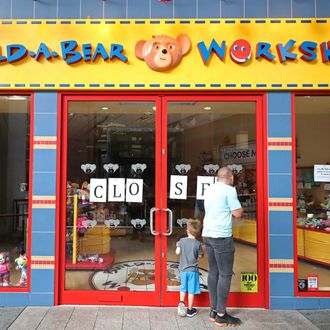 A closed Build-A-Bear store in Belfast.
Photo: Niall Carson/AP
Build-A-Bear is a store in which you can pay upward of $60 to put in the labor of making your own teddy bear. It's also a place that was mired in so much chaos today that it was as if the very gates of hell had opened their fiery mouths in various local malls.
It all started when the company announced that they'd be running a "Pay Your Age" promotion across the U.S., Canada, and the U.K. This meant that children could have a chance to get the toys for significantly cheaper prices — and Build-A-Bear clearly had not thought the potential demand through.
"Per local authorities, we cannot accept additional Guests at our locations due to crowds and safety concerns," they wrote on Facebook before noon. "We have closed lines in our U.S. and Canada stores."
Per the BBC, the U.K. — perhaps still reeling from their World Cup loss — did not fare much better.
I shudder to think what would happen if American Girl stores attempted the same promotion.