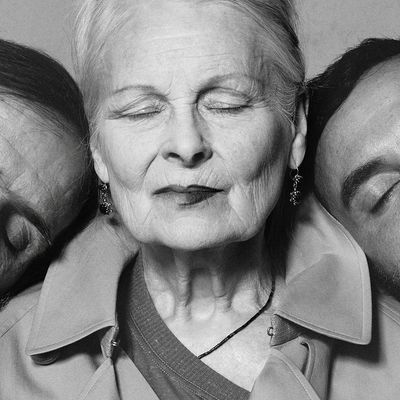 Andreas Kronthaler, Vivienne Westwood, and Riccardo Tisci.
Photo: Brett Lloyd for Burberry
Two British icons are working on something exciting — and neither of them are royals. Vivienne Westwood, punk icon, is collaborating with the new Burberry led by Riccardo Tisci on a limited-edition collection. Tisci, who was recently appointed creative director of the heritage brand, is coming out strong with his first collaboration. He wrote on Instagram that Westwood was, "one of the first designers who made me dream to become a designer."
Westwood, whom Tisci rightfully describes as the original British punk, is opening her archive for the collaboration. The limited-edition collection will consist of reworked Westwood designs. It'll launch in December, just three months after Tisci shows his first collection for Burberry at London Fashion Week.
So what should the designers pull out? The chicken-bone-and-chain T-shirt? This all-tartan ensemble, but in Burberry plaid? Carrie Bradshaw's wedding dress (despite the fact that Westwood couldn't sit through the movie)? The options are endless.