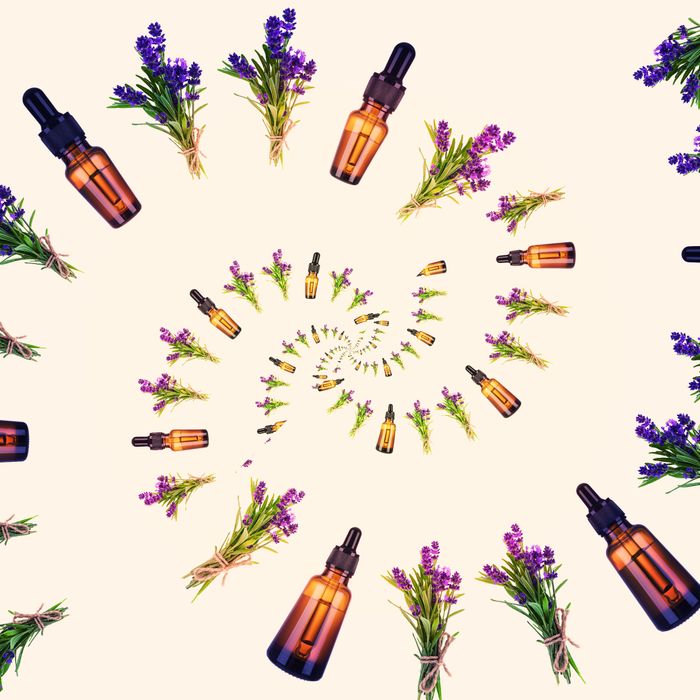 As an anxious person who loves to shop, I am always looking for products which might address almost all my concerns in one fell swoop. (I say "almost" because, if I'm being honest, I don't want to find anything so perfect that it relieves me of the persistent desire to shop.) So far, nothing has come close to doing for me what my daily Prozac prescription and therapy have done for me, but there is one category I always return to when I feel like I need a little anti-anxiety boost: crap that smells like lavender.
Items I have purchased include: lavender pillow mist, lavender hand soap, lavender satchels for my dresser, lavender bubble bath, a lavender scent roller for my wrists, actual bunches of dried lavender, a lavender Diptyque candle that cost so much I can't talk about it, and lavender essential oil. I so believe in the calming powers of lavender that I even have two sprigs of it tattooed on my arm, though sadly these do not produce their corresponding scent.
But I have also long assumed that the claim that lavender reduced anxiety was specious, or at least exaggerated, falling into the same dubious tarot/crystal/aura camp of products I regrettably love so much. Huffing lavender makes me feel good because I like the smell, of course, but does it really do anything beyond that?
According to Sue Cutshall, an integrative health specialist and advanced practice nurse, and Nancy Rogers, a massage therapist and certified aromatherapist — both based at the Mayo Clinic in Rochester, Minnesota — essential oils really do have therapeutic benefits, so long as they're used correctly. "Essential oils are multidimensional. They work with the olfactory and the limbic systems, which is emotions, and they're also antifungal and anti-inflammatory," says Rogers.
Both Rogers and Cutshall consider essential oils as complementary to traditional medicine, but Cutshall also adds that increased use of the former may allow certain patients to reduce their dependence on the latter. "Patients get medications from the hospitals when they're anxious, but [oils are] something they can have control over," she says. "And nurses feel like they can recommend something that's non-pharmacological, and maybe, in the process, we can decrease the use of pharmacological solutions." While most anxiety medications are taken once or twice daily, essential oils can be used as needed, and are easy (and relatively cheap) to obtain — which means that they can be used to "spot treat" shorter-term anxiety flare-ups in ways that daily SSRIs can't. If I'm anxious at work in the middle of the day, but not so much so that I need to take a Xanax (and/or don't want to, because it'll put me to sleep), I can smell lavender at my desk, and it should help.
Cutshall also says that the number of academic studies done on the therapeutic benefits of essential oils are still small, but growing — the NIH lists 72 such studies, testing the effects of essential oils on conditions ranging from dementia to gingival inflammation. And as the use of essential oils becomes more popular at home, says Rogers, it becomes easier to teach patients about their potential health benefits. "I've been here almost ten years now and what I've noticed is that patients are coming in more knowledgeable about complementary services," she says. "They use massage and oils and meditation at home, so why not carry it over into the hospital?"
Still, both Cutshall and Rogers stress the importance of education in buying and using essential oils. "The oil should be classified as 'pure,' 'natural,' 'genuine.' Look for 'organic' and "authentic,'" says Rogers. "The bottle should have the country of origin, when it was distilled, and it should come in a brown or blue bottle," which slow the oxidation and deterioration of the oil. And though some wellness sites might recommend ingesting essential oil, or applying it directly to the skin, Cutshall and Rogers limit their recommendation to inhaling it. "Most of the research has been done on inhalation and more being done of it putting on the skin, which there are safety concerns with, because they are very strong," says Cutshall. "There's almost no research about ingestion at all."
Here's how they tell patients to use lavender essential oil, for instance: holding it a few inches below the nose, inhale through the nose and exhale through the mouth. You can also waft the scent under your nose for up to ten minutes, once every hour. "Everyone's a little different as to how their body reacts and their absorption rate," says Rogers. "Usually people find that within half an hour, or less, they feel a little more relaxed." Personally, I feel much more relaxed about all the lavender stuff I've purchased already.