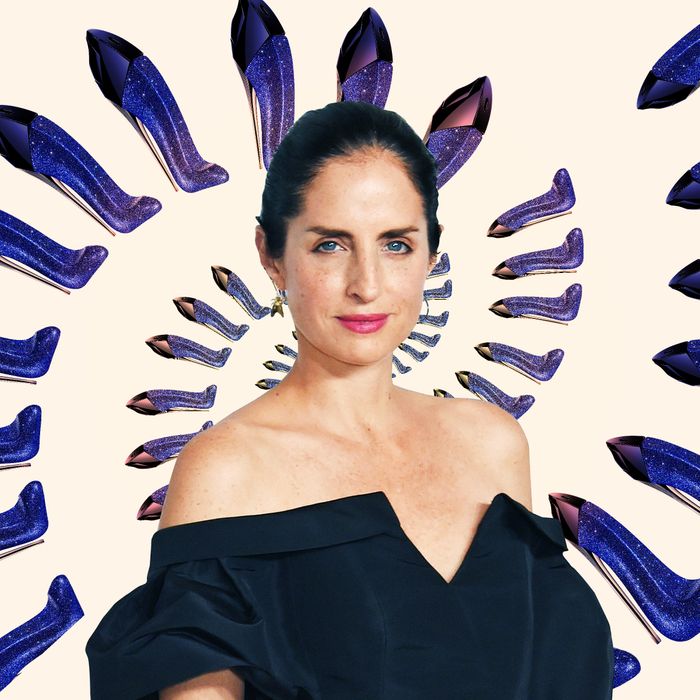 Photo-Illustration: David M. Benett/Getty Images
Call it the Proust effect: Memories are best triggered by smells. Scientific studies confirm that out of all the senses, smells and fragrance offer the best recall. Our new feature, Scent Memories, asks its subjects to talk about the scents they associate with different emotions and thoughts. Next up is Carolina Herrera de Baez, the creative director of Carolina Herrera Fragrances and the daughter of designer Carolina Herrera. The fragrance house just released a limited-edition version of Good Girl called Good Girl Glitter. The Cut spoke to de Baez about New York coffee shops, arrabiata sauce, and her affinity for jasmine.
My first scent memory: My very first smells came from the flowers in our garden in Caracas. It's roses, gardenias, tuberose, the smell of cut grass and wet earth after an afternoon tropical storm. Those storms last a few minutes, during which you think the world is falling apart.
The smell I associate with love: Jasmine and tuberose because my first love was my mother. They were oils of jasmine and tuberose, which she always mixed herself.
Happiness smells like: The same as my first scent memory — wet earth and grass after a tropical rainstorm, which I associate with a magical childhood
Heartbreak or loss smells like: The smell of coffee. You know when you get your heart broken and you go and drink coffee at a coffee bar with your friends and bore them with the story for hours on end? It would be New York coffee shops and hash browns. My big heartbreak — I was in my early 20s and I used to go in day in and day out to the same coffee shop in the West Village.
Regret smells like: I have such few regrets that I haven't made that connection yet.
My favorite going-out scent: It's whatever perfume I'm working on. It's an emotional smell, so it depends on how I'm feeling. I'm very unfaithful with perfumes because I'm constantly working with them; I'm constantly trying different ones. Sometimes I can get stuck on a tester that never becomes a perfume. It doesn't have anything to do with day or night; it doesn't have anything to do with weather; it doesn't have anything to do with the clothes. It's purely an emotional decision.
Success smells like: A mixture of all the perfumes we have launched in the past 20 years, every single one of them! Not all of those perfumes in the past 20 years have been successful, but even the ones that haven't been are a success to me.
Sunday morning smells like: It would be coffee, newspapers, dogs, and children in bed. Coffee doesn't have negative associations, even though it does remind me of heartbreak.
Monday morning smells like: My sheets. I never want to get up on Mondays.
Friendship smells like: The smell of something sweet baking in the oven. Coincidentally, most of my friends love to cook, as do my daughters.
My favorite foods smell like: Spiciness. You know when you smell spice and it goes into your nose, and your glands water and maybe you sneeze? I love that sense. I love arrabiata sauce. I love Malaysian food when it's really spicy. Thai and Mexican, I die for. I think I love spice more than the food.
My home smells like: About four years ago, I went to Dubai and I stayed in this hotel (The One and Only Royal Mirage Dubai) and I loved the smell of it. They gave me incense from it. I was just there last week, and they gave me a box of it again. It's a very particular type of jasmine because it smells like no other incense.
Whenever I run out, I try to buy different jasmines and none of them smell like that one. I don't know what it's called, but it's incredible. It's the only one that I've found that actually smells good. Usually, I like cinnamon incense and jasmine candles, and I also like fig candles.
I smell like: Lately, I've been using a lot of oil of myrrh, which is very incense-y, and whatever perfume I'm working on. When I'm traveling, I usually go light, so I just use a little thing of oil, either of myrrh or oud or the oils that I work on, which I love.
When I'm home, sometimes I don't wear anything. I like to have a rest at some point. I do think that perfume, even if you can't smell it all day, as the day moves on, the smell changes.
If you could have one smell on your hands forever, what would it be and why? Jasmine and the smell of my newborn babies — it's a mixture of talcum and innocence.
If you buy something through our links, New York may earn an affiliate commission.