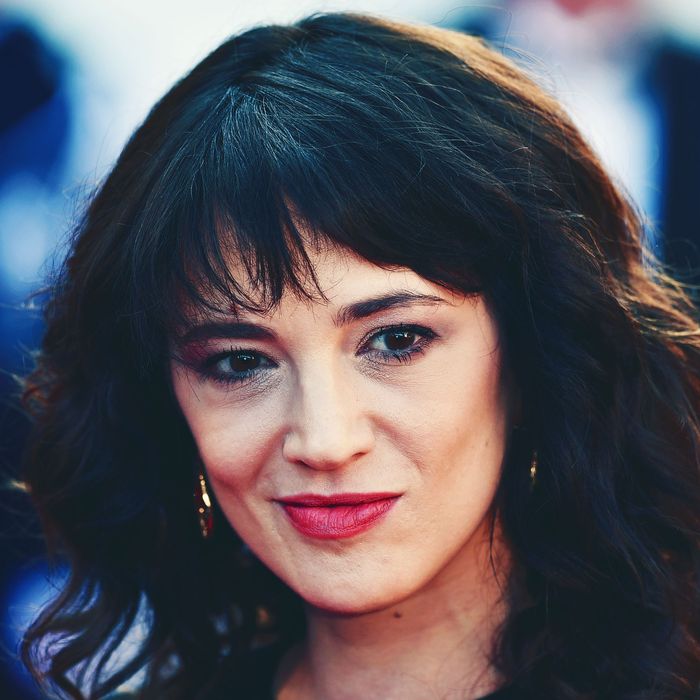 Argento.
Photo: Anadolu Agency/Getty Images
A number of prominent #MeToo advocates, including Rose McGowan, Terry Crews, and Mira Sorvino, have published an open letter in the L.A. Times defending Asia Argento after trolls attacked her in the wake of boyfriend Anthony Bourdain's death.
"One of the most vocal and unwavering figures in the #MeToo movement has been Asia Argento," the open letter details, describing the "vicious cyberbullying and repulsive slander" she has received online in the wake of Bourdain's passing, including being blamed for Bourdain's suicide and allegations that she is using the #MeToo movement to advance her career.
Argento is a leading #MeToo advocate who was one of Harvey Weinstein's first accusers, telling The New Yorker last October that the producer sexually assaulted her at Cannes in 1997. In the last year of his life, Bourdain was a staunch supporter of Argento and one of #MeToo's most outspoken male champions.
The letter goes on:
There has long been a traditional narrative of blaming, vilifying and martyring courageous women. We reject that narrative. If there is one thing we know with unwavering confidence, "sexual violence victim" is not a title anyone wants attached to themselves. Being known as a sexual assault victim isn't a badge of honor or career booster; it's a highly difficult, sometimes traumatizing and humiliating experience. All of us who have taken the risk of coming forward — and it is truly a risk to us, our reputations, relationships and mental health — have faced harsh criticism and often outright anger and hatred online, in our respective communities and, for some, within our own families. Yet we come forward in the hope that we can change things for others and end the sexual violence and abuse that has flourished with impunity for millennia. We are here to ask those who are angry and grieving the loss of Anthony to find a healthy outlet for their pain. Asia is a survivor, just as we are, and her fame and outward show of strength does not make her any less vulnerable.
The letter ends with an exhortation to stand up to bullies and to "be kind to each other, to believe survivors, to stand up for survivors, to encourage, support and sympathize with them." Read the full letter here.