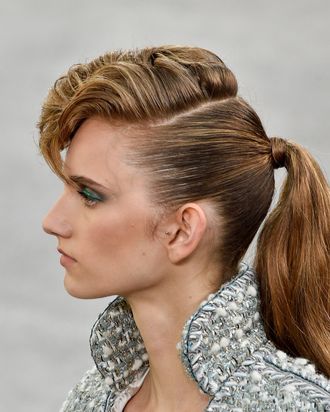 A Chanel model.
Photo: Peter White/Getty Images
At this week's couture fashion shows, Chanel showed a collection of tweed capes, leather boots, and opera-length gloves. It might all sound very proper, but hairstylist Sam McKnight added some edge with rockabilly ponytails.
The punk look was part faux-hawk, part slicked back pony. It contrasted well with the earlier looks in Karl Lagerfeld's set, including schoolgirl skirts and '80s-inspired sleeves. As the show went on, the vibe turned more punk and many looks were sheer, studded, or both.
McKnight is a frequent Chanel collaborator. He did the vacuum-sealed, water-resistant ponytails at Chanel's spring 2018 show; the Queen Elizabeth I–inspired bouffants at pre-fall 2013; and the cowboy-esque ponytails at their metier d'arts show in Dallas.
In a caption on Instagram, the French brand said the latest couture show was inspired by the "sights and sounds of Paris." The hair is perfect then, because, if hundreds of French Girl articles have taught us anything, it's that a high-low mix is quintessentially française.