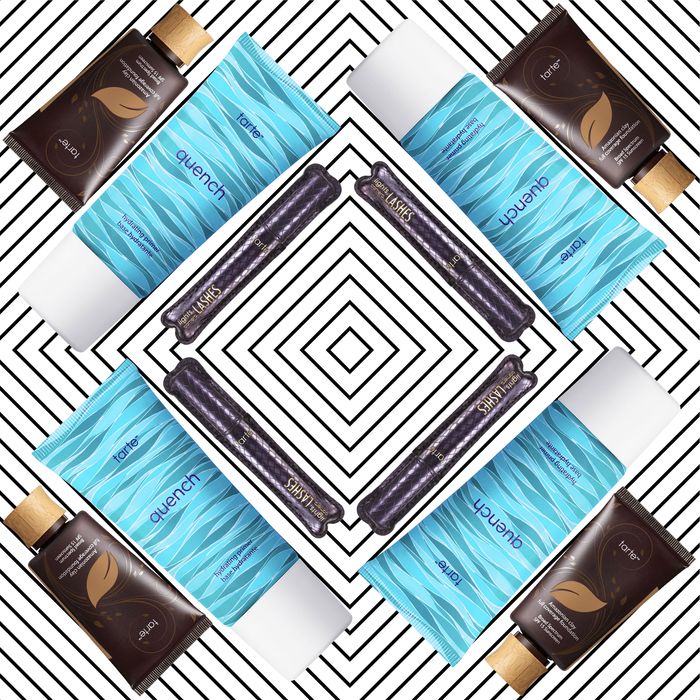 We've got a full month of summer left, so you better believe that I'm pumped for Tarte Cosmetics' annual Friends and Family sale, which is full of warm-weather beauty essentials wrapped in the prettiest nautical packaging.
From July 30 through August 3, you can get (almost) everything for 25 percent off (excluding Shape Tape Contour Concealer) by using code "BESTIES" at checkout. And, if you're a Tarte loyalty member, you can take an additional 10 percent off. If you're not a loyalty member yet, this is probably a good time to sign up. After scouring their website, I've decided that I need the following items as soon as possible.
This primer is supposed to hydrate instead of mattify — intriguing! It's described as a "cooling gel formula" and packed with hyaluronic acid and marine-plant extract, which are supposed to soothe and plump skin. In the dog days of summer, I'm very much here for combining hydrating and priming qualities into one product so I'm not piling on a ton of different things.
Clever wordplay is always going to win my heart (the waterproof version is called "Lights, Camera, Splashes"). It's a vegan mascara that is described as "a push-up bra for lashes." The reviews are full of people saying that they always get complimented on their lashes when they wear this. Plus, the container looks like a little fishtail, so I'm sold.
"Amazonian clay" is literally what Wonder Woman was sculpted out of, so why not put it on your face? This is a full-coverage matte liquid foundation that is described as being "cake free" and comfortable. The addition of SPF 15 is nice, too. It is available in 40 shades.
Do you choose lipsticks based on what their tubes look like? Then this sleek blue case is for you. This is part of their Rainforest of the Sea collection, and the reviews speak really highly of how creamy and hydrating the formula is. It is available in 24 shades.
If I had my way, every eye-shadow palette would be circular. It's more compact than a square or rectangle, and sits easily in your hand for convenient application. And these are the prettiest palettes around. The "Sizzle" version of Rainforest of the Sea eye-shadow palettes includes eight sunset-inspired, coconut oil–infused shades. Two of them are matte (soft pink and warm brown) and the other six are metallic.
I SAVED THE BEST FOR LAST. Look at how freaking cute these brushes are! Five brushes is perfect for a streamlined daily beauty routine, and this set will look perfect in a glass jar on your vanity while you channel your inner Ariel. Or, depending on the day, Ursula.
If you buy something through our links, New York may earn an affiliate commission.