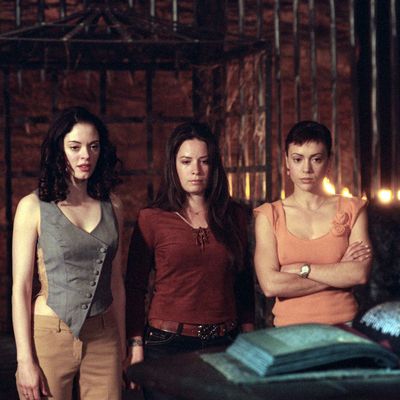 Photo: Paramount Pictures
NCIS showrunner Brad Kern has spent the past year battling against a string of sexual harassment, discrimination, and misconduct allegations from his time at CBS. But long before he was complicit in creating CBS's toxic "frat house" atmosphere, he was the showrunner of the WB's cult series Charmed, about three sister witches — where he took something from the Charmed Ones that did not belong to him.
Last December, Charmed star Holly Marie Combs, who played Piper Halliwell, tweeted that Kern took home the original Book of Shadows after the show wrapped, promising her that they would "share custody of it" and send it back and forth each year. For those not familiar, the Book of Shadows was the show's most important prop — the sisters' book of spells that appeared in every episode and contained the entirety of their magical catalogue. Yet Kern never did share the book, so Combs called on the former show-runner to auction the book and donate the proceeds to a charity benefiting women. He never responded. (The Cut has reached out to Kern for comment and update if we hear more).
Now, Kern's name is back in the press again; he was name-checked in Ronan Farrow's exposé about the toxic workplace culture at CBS and the sexual-harassment allegations against network CEO Les Moonves. Prompted by this, the Charmed stars are reinvigorating their mission to get their beloved spell book out of enemy hands.
Alyssa Milano, who played Phoebe Halliwell, is one person calling for the book's return. "The original Book of Shadows was promised to Holly," she told the Cut. "Brad is being investigated for sexual harassment, so if he's not giving it to Holly, he should auction the Book of Shadows off and give the proceeds to Tarana Burke's #MeToo Foundation."
"I'm concerned about the original and would rather it be in the appropriate hands or auctioned off for a women's charities," adds Combs.
In December, Variety published an article detailing Kern's 15-year pattern of sexual harassment and discrimination, which included inappropriate comments about women and people of color and resulted in two internal CBS investigations into his behavior. During his tenure on Charmed, people on staff remember him referring to the actresses as "bitches," "trash," "psychos" and "crazy." "He created a toxic workplace," said Charmed co-executive producer William Schmidt in the Variety piece. "I've been on a lot of staffs, and this one had the most terrible, oppressive atmosphere by far — and it was worse for the women."
In May, Kern stepped down as NCIS showrunner, and in June, it was announced that CBS was hiring an outside investigator to look into the allegations against Kern — which didn't stop CBS Television studios from launching a new two-year-deal with him and keep him on NCIS: NOLA with a different title.
Charmed, a show about three sisters working together to make magic, can retroactively be viewed as a crucible of Hollywood feminism, starring activists like McGowan and Milano, with Nell Scovell on the writing staff and serving as co-executive producer. "When I saw Holly's tweet saying the Book of Shadows was in Brad's possession, it seemed like a joke," said Scovell. "I mean it was a book that empowered sisters — literally — and a man felt entitled to take it."