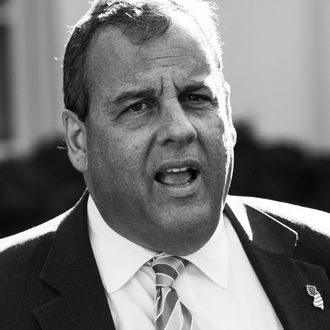 Chris Christie.
Photo: Cheriss May/NurPhoto via Getty Images
With the New Jersey governor's life firmly behind him, Chris Christie has now set his sights on becoming a published author. The Associated Press reports that his book, Let Me Finish: Trump, the Kushners, Bannon, New Jersey, and the Power of In-Your-Face Politics, will be released by Hachette next January.
If the five (5) points after the colon didn't fully enumerate what Christie's book will cover, Hachette says he will "set the record straight" on his work with the Trump campaign (did he or did he not fetch him McDonald's?), members of the Trump team, and, of course, Bridgegate.
"I've had a wild ride up till now — there's no denying that," Christie said in a promotional statement. "But I have so much more to do for our country and so much more to say. Let Me Finish is my first chance to begin to put it all out there."
The nation (me) demands a chapter on The Great Nacho Incident of 2017.