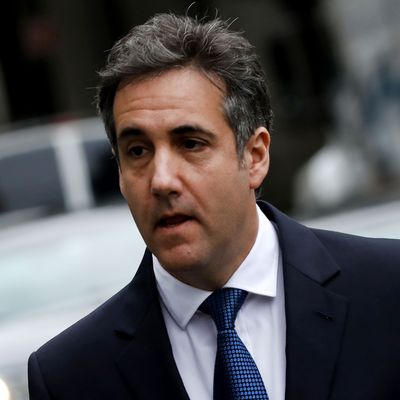 Trump's former fixer and current headache, Michael Cohen.
Photo: Peter Foley/Bloomberg via Getty Images
Two months before Donald Trump was elected president, his longtime fixer, Michael Cohen, made a secret recording of the two men discussing a hush payment to Karen McDougal, the former Playboy model who said she once had an affair with Trump, the New York Times reports. Now the FBI has the tapes.
The tapes were seized earlier this year when the FBI raided Cohen's home and office as a part of an investigation into possible bank fraud and campaign-finance violations.
Rudy Giuliani, the latest in a long line of lawyers for Trump, told the Times that the tape, rather than being bad news for Trump is actually, "exculpatory."
"Nothing in that conversation suggests that he had any knowledge of it in advance," Mr. Giuliani said, adding that Mr. Trump had directed Mr. Cohen that if he were to make a payment related to the woman, write a check, rather than sending cash, so it could be properly documented.




"In the big scheme of things, it's powerful exculpatory evidence," Mr. Giuliani.
McDougal claims that she and Trump had an affair for ten months during 2006 and 2007, just after Melania Trump gave birth to son Barron. McDougal says she and Trump slept together "dozens" of times and that he initially tried to pay her for sex, but she turned down the payments. Months before the election, she was paid $150,000 by the National Enquirer for the rights to her story. It was never published.