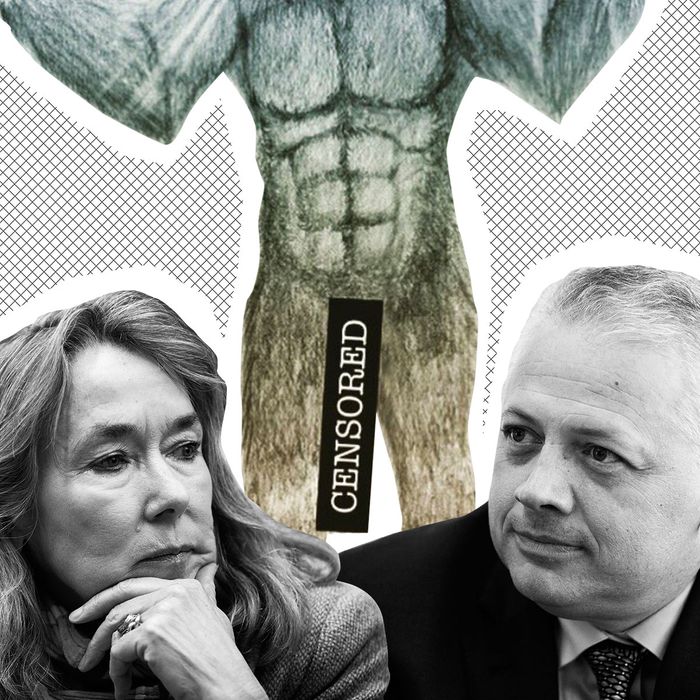 Leslie Cockburn, Bigfoot, Denver Riggleman.
Photo: Getty Images
As Americans keep an especially close eye on the 2018 midterm elections, we've been greeted with a new, thrilling topic currently taking over the political discourse: Bigfoot erotica. Another day, another set of nightmare Mad Libs!
Let us embark on this strange journey of folklore, horniness, and Virginia's 5th Congressional district race together.
So where did the Bigfoot erotica come from?
You can thank Leslie Cockburn for bringing it to light. The former award-winning investigative journalist (and Olivia Wilde's mom) is currently running as the Democratic candidate for the U.S. House of Representatives in Virginia's 5th Congressional district. She took to Twitter on Sunday evening to share a fun fact unearthed about her Republican opponent, Denver Riggleman.
"My opponent Denver Riggleman, running mate of Corey Stewart, was caught on camera campaigning with a white supremacist," Cockburn wrote. "Now he has been exposed as a devotee of Bigfoot erotica. This is not what we need on Capitol Hill." She added a screenshot from Riggleman's Instagram showing the cover to his yet-unpublished book — Mating Habits of Bigfoot and Why Women Want Him — which features a crude drawing of Bigfoot with a six-pack and a "censored" sign hiding what readers are meant to believe is his mondo dong.
Cockburn then posted a chaser: another drawing of Bigfoot from Riggleman's Instagram, this time with his head edited on.
How did Riggleman react?
He denied that his book was sexual in nature or that he even knew what Bigfoot erotica was, even though "Denver Riggleman" sounds exactly like a pseudonym you'd use when writing Bigfoot erotica.
"Yes-I wrote a book about Bigfoot believers. Bigfoot pics by military bubbas are meant to be funny," he tweeted. "I didn't know what Bigfoot Erotica was until @LeslieCockburn mentioned it. Weird things happening in her campaign-Let's stick to issues and Leslie's book. #bigfoot #DangerousLiaison"
Riggleman elaborated in an interview with the Washington Post:
He said that he did write an "anthropological book sort of based on parody and satire," which has been a running joke with "a bunch of miliary pals" for the past 14 years. The Bigfoot image that Cockburn grabbed from Instagram was drawn by an artist friend who told Riggleman, "This is the best way to present your book."
His Instagram has since been made private.
So what's this about Riggleman campaigning with a white supremacist?
Back in June, video emerged of Riggleman campaigning with Isaac Smith. Smith is the co-founder of Unity and Security for America, a white nationalist group flagged by the Southern Poverty Law Center. Virginia U.S. Senate candidate Corey Stewart — also mentioned in Cockburn's initial tweet — appeared with Smith and his group's other founder, Jason Kessler, at a news conference about the violent white nationalist rally in Charlottesville last year.
Are people already suggesting that we shouldn't kink-shame this dude over his alleged Bigfoot fetish?
Of course they freaking are, but you already knew the answer to this question.
So, outside of Riggleman's work, what does the Bigfoot erotica landscape look like?
A cursory Google search on my work computer found a multitude of options, from Seduced by Bigfoot and Ravaged by the Yeti to Cum for Bigfoot, a series that includes at least 16 known installments. Enjoy!