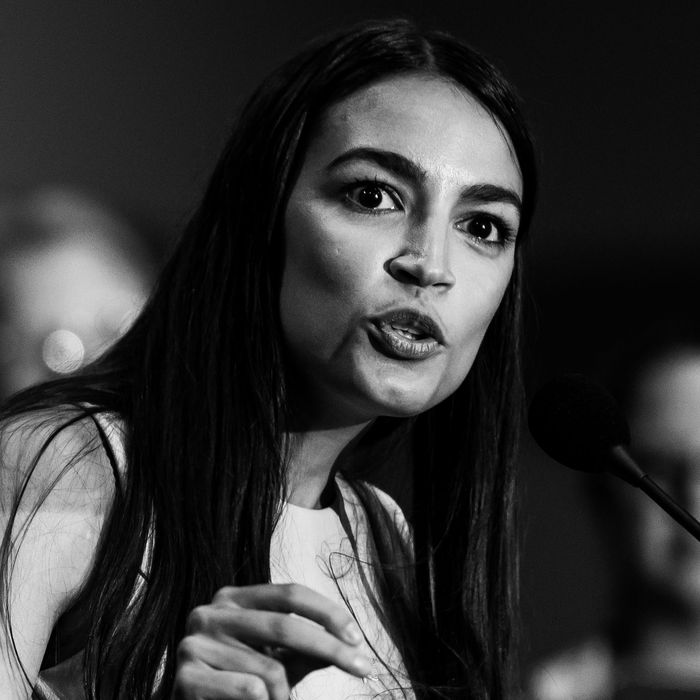 Alexandria Ocasio-Cortez.
Photo: Dan Videtich/The Washington Post/Getty Images
This weekend, Virginia Kruta, an associate editor at the conservative news website the Daily Caller, witnessed an absolutely chilling display.
At a rally for Democratic congressional candidate Cori Bush at the Ready Room bar in St. Louis, Kruta watched Bush and 28-year-old Bronx-born Democratic Socialist Alexandria Ocasio-Cortez discuss topics like children's education and health care, and as she told the hosts of Fox & Friends this week, the whole thing made her "uncomfortable."
"They talk about things that everybody wants, especially if you're a parent" Kruta said in a clip shared on Twitter by Aaron Rupar, a journalist for the website ThinkProgress. "They talk about education for your kids, health care for your kids — things that you want. And if you're not really paying attention to how they're gonna pay for it, or the rest of that, it's easy to fall into that trap and say, 'My kids deserve this,' and 'Well, maybe the government should be responsible for helping me with that.'"
How did all that talk of government-funded education and health care make Kruta feel?
"I was mostly uncomfortable, because I was surrounded by a group of people who were talking about how they had gotten involved because they were tired of being angry all the time, and it seems like so much effort to be angry about everything instead of to focus on what you can do to change it."
She did not elaborate on why "getting involved" did not count as "focusing on what you can do to change it."
Kruta also wrote about her experience in an essay titled, "I'm a Conservative and I Went to an Alexandria Ocasio-Cortez Rally." In it, she explains the "truly terrifying" allure of dangerous progressive concepts like "human rights" and "healthcare" for "children":
• I saw how easy it would be, as a parent, to accept the idea that my children deserve healthcare and education.

• I saw how easy it would be, as someone who has struggled to make ends meet, to accept the idea that a "living wage" was a human right.

• Above all, I saw how easy it would be to accept the notion that it was the government's job to make sure that those things were provided.
On Tuesday, Ocasio-Cortez responded to Kruta's essay on Twitter, writing: "Breaking News: Conservative goes to our Cori Bush rally in St. Louis and… gets inspired? And then… gets uncomfortable… about being inspired by a Democrat? *laughing crying emoji*"
But as Kruta explained in her essay — unlike the Democratic Socialist simpletons who are all, "George Washing-WHO?" and "Bill of WHATS?!" and "the founding fathers were slave-owners" — she is "certain of our nation's founding and its history," and therefore isn't going to fall for the promises of equality and fairness proffered by the likes of Ocasio-Cortez.
"I left the rally with a photo — in part to remind myself of that time I crashed a rally headlined by a socialist, but also in part to remind myself that there, but for the grace of God, go I."
Brave.