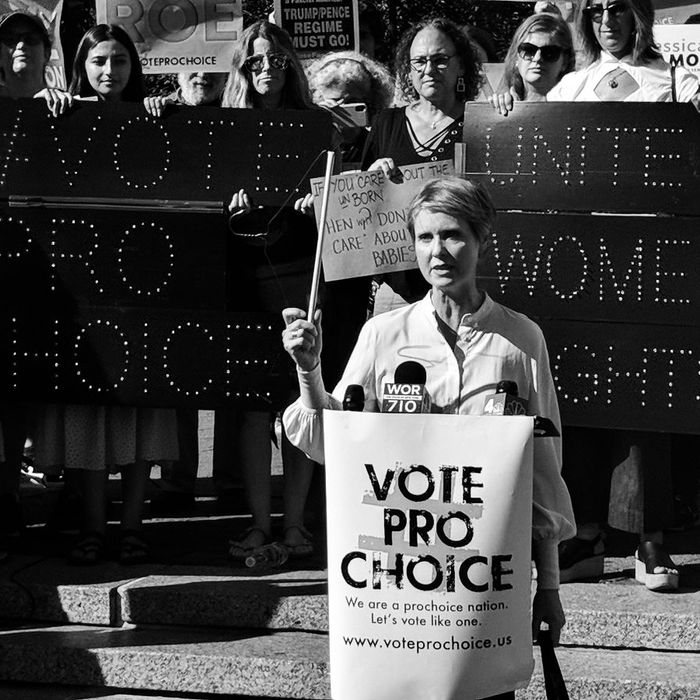 Cynthia Nixon.
Photo: @CynthiaNixon/Twitter
During a Tuesday rally, New York gubernatorial candidate and actress Cynthia Nixon held up a wire coat hanger as she told the harrowing story of her mother's illegal abortion.
The rally was held one day after President Donald Trump announced his nominee for the Supreme Court: Brett Kavanaugh, a man whose voting record suggests he poses a severe threat to the landmark 1973 decision Roe v. Wade that legalized abortion in the United States. Nixon was one of many people in attendance to protest Trump's pick, and to speak out in support of reproductive rights.
According to the New York Times, Nixon said at the rally that her mother had an illegal abortion. Then, she added, "We must never, ever, ever, go back to a time when any woman feels she has to make this kind of a choice. And this is why we must fight."
However, Broadly reports that this isn't the first time Nixon has spoken of her mother's abortion. In a 2009 interview with CNN, Nixon said, "My mother had an illegal abortion pre-1973, and it's something that I would never want to face or want my daughter to be facing or any of her friends."
Nixon went into further detail about her mom's experience in a 2016 essay for Time:
Over 50 years ago, my mother had an abortion. She was a working woman in New York City with an office job for Goodson and Todman, the TV game show producers who created everything from What's My Line? to Family Feud. She never was willing to tell me any details about her abortion, except to let me know that she had one and it was awful and scary.
Also on Tuesday, Nixon's campaign released a video accusing Governor Andrew Cuomo of not doing enough to protect women's reproductive rights. The video juxtaposes a speech Nixon gave about the importance of fighting to protect Roe v. Wade, with comments made by Cuomo, including when he said God made him a feminist "when he gave me three daughters."
A spokeswoman for the Cuomo campaign, Lis Smith, told the Times, Cynthia Nixon can produce and star in as many silly, fact-free videos as she wants … the governor is focused on uniting Democrats to fight against Donald Trump and his destructive anti-woman agenda.