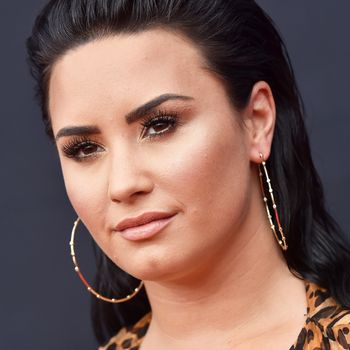 Demi Lovato.
Photo: Axelle/Bauer-Griffin/FilmMagic
Remember July 6, 2018, as the date Demi Lovato ended someone's life with a single tweet. Engrave it on the headstone. Celebrate its anniversary. Just before 1 a.m. on Friday, Lovato cracked her Twitter fingers and fired off a fatal shot: "Good luck on your blog." Yikes! We can practically feel the bullet graze us. But who is its victim?
Though the usual target of Demi's Twitter firing squad is her nemesis Perez Hilton (whom she has squabbled with on Twitter on occasion), that doesn't appear to be the case here. Perez himself has even been tweeting among her fans to get to the bottom of it. So instead, it's looking like the alleged blogger might be Mike Bayer, a life coach and Dr. Phil contributor who is also Demi's former sober coach. He previously appeared in her documentary Simply Complicated to talk about guiding her through her past battle with addiction.
Last month, Lovato revealed in her surprise song, "Sober," that she suffered an apparent relapse. Then on Thursday, Bayer posted a video to Instagram preaching about his past work with celebrities and their use of the word "artist" as an excuse for bad behavior.
"I'm here today to explain to you that being an artist and being talented are two different things. To me being an artist is living your authentic life. I believe everyone out there is an artist," he says. "I think if somebody uses it as an excuse to be late, or insincere, or rude, or unapologetic, that's not being an artist, that's being a jerk. And you shouldn't stand for that."
Fans have now pointed to a tweet in June that suggests a falling out between Demi and Bayer amid what might've been her seeking his help with recovery again. (They also no longer follow each other on social media.)
Right on cue, Demi's fans — and even Perez — have swarmed Bayer's comments on the video quoting Demi's instant-classic tweet. Meanwhile, this blogger will now sleep with one eye open for the rest of her days.