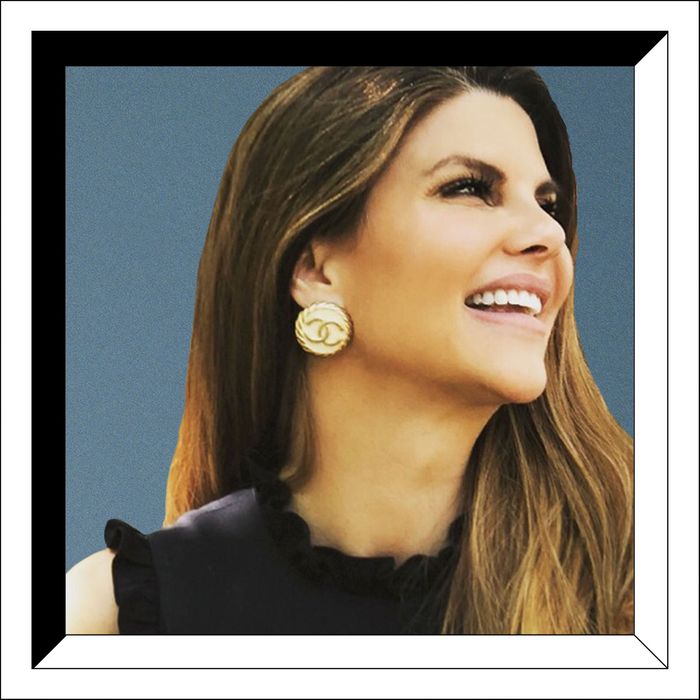 For The Skin We're In, the Cut talked to intriguing people around the country about their approaches to skin care. Dendy Engelman is a celebrity dermatologist whose clients have included Sofia Vergara. Based in New York City and a mother of two, Engelman talked to the Cut about her love for one very famous acid solution, the importance of an antioxidant serum, and starting retinoid again after just having a baby.
On basing her skin-care routine on science: The joke is that I have so many philosophies. But first and foremost, unless you can explain the science and the clinicals behind it, I'm not going to use it or recommend it. There are a lot of empty promises. Everything claims to enhance radiance and luminosity.
I'm also a skin-cancer surgeon by trade. It's not sexy. I know it is better to prevent damage than to correct it. I'm from the South, and we tend to speak in idioms. An ounce of prevention is worth a pound of cure. I encourage people to be mindful of their skin and seek out dermatologists for their annual exams.
On the importance of plane SPF: I totally agree you can get more damage in a plane. I do like window seats, personally. Windows just don't have UVA and UVB protection — pilots get a ton of skin cancer. It's actually mandated in their training that they wear sunscreen. I should probably move to the aisle. I just shut the shade as soon as it's allowed.
On using P50 in the mornings: My bathroom looks like Sephora. I love to test new products and am lucky enough to be sent a lot of them. I use a micellar water in the morning. I am a fan of Biologique P50 lotion. I know a lot of people don't like it because of phenol. But if you read the studies, it's not dangerous, plus you can get a version without it anyway. It makes my skin texture look prettier, and it diminishes the appearance of pores. To prep the skin for the rest of my day, I use the probiotic booster called Super Start by Elizabeth Arden.
My morning nonnegotiable is an antioxidant serum. I rotate between three, the SkinCeuticals CE Ferulic, Flavo-C by ISDIN, and Drunk Elephant makes a good one too. Sunscreen isn't a perfect science. Even with SPF 100 or those that have zinc, there's still a limitation protection of about 1.6 percent. The antioxidants are there as a safety net to catch free-radical damage; it's giving another layer of protection.
Then I use a hyaluronic acid moisturizer. I like the SkinMedica HA5, that one feels really nice. I like EGF from Bioeffect, it has growth factors in it from barley. The barley plant has similar characteristics to human growth factors. My favorite sunscreen is Elizabeth Arden City Smart. I live in NYC so I've gone home before after not wearing any makeup and have seen all the dirt and grime accumulated. This one has a pollution shield – it's an invisible shield that doesn't let the particles in. It's also SPF 50, with antioxidants, and has titanium and zinc dioxide. It's also tinted and almost looks like makeup.
On double-cleansing at night: At night, I do a double cleanser. I use a Ceramide Cleansing oil by Elizabeth Arden and Epionce Lytic Gel Cleanser. I'm also testing new retinol capsules. Because I just had a baby, I had to swear off retinoids. I'm just now introducing it back. I'm trying these retinoid capsules which are really pretty and compounded with ceramides. That helps mitigate the drying effect. It's single-use so you can travel with them; they're biodegradable and maintain their potencies. Then I follow up with a moisturizer from La Prairie, La Mer if I'm dry, and Valmont eye creams. I found out about Valmont from Rescue Spa — it's my heaven.
On the best concealer: I had a black eye from having to get something cut out. I was on Dermablend for ten days. I had to go on the Today show with a black eye. Oftentimes, when people have something wrong, they want to throw out their whole medicine cabinet. But that can only make it worse. It will pass. Stick with your routine. If something works for you, don't change it up because you had one bad thing. And put on concealer.
On being an optimist: Growing up I always had a full face, which I didn't like. But as you age, that goes down a little bit and that helps make you look younger. I have patients who will say, Can you do lipo on my face? And I always tell them that they will learn to love that. Volume makes you look younger. My acne patients come to me upset because it can be so emotionally impactful. But oily skin ages much better. I try to turn these things into a positive. I don't want us beating ourselves up. We're so hypercritical and into face-tuning and filtering. I have a 6-month-old, I want to teach self-love and to appreciate things about yourself that you might have hated before. You will look back and think, It wasn't so bad and now I don't have to do Botox every three months.
On sheet masking to slow down: I also like these gel masks from Derm Institute. They have antioxidants in them and look like Crystal Light packets. If you look at the box it's expensive, but you get 20 of them. I use it as a sleep mask. It's completely penetrated to my skin in the morning, that makes a big difference.
I also love the little eye patches that makes my eyes look brighter. I do have the Valmont ones. I'm doing a shoot for a magazine here in London and brought them here. I love sheet masks. I like anything that is part of a ritual that makes you be mindful and focus on you. So much of life is running like a fire drill from one thing to another. Sheet masks often make you be calm. If you run around, it's going to slide off.
If you buy something through our links, New York may earn an affiliate commission.