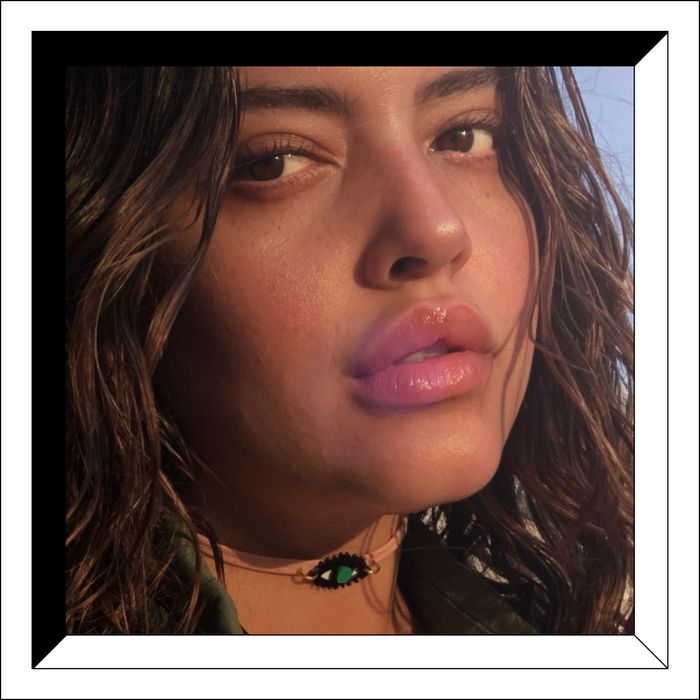 Photo: Courtesy of Denise Bidot
For The Skin We're In, the Cut talked to intriguing people around the country about their approaches to skin care. Denise Bidot is a mother, model, and body-positivity advocate. She's modeled for Chromat, Nordstrom, Lane Bryant, and more (plus, she is best friends with Queer Eye's Jonathan Van Ness). In 2016, she launched a lifestyle movement called "There's no wrong way to be a woman." She talked to the Cut about using more skin-care products than the average human, how her routine makes her feel free, and a face mask that smells so good that it makes her want to eat her face.
On skin care being a priority: My philosophy is to be proactive instead of reactive. I started my skin-care routine early on in my 20s and it's why I can say my skin photographs better. My mom taught me a lot of what I know about it. Skin care is one of the most important things for the body and feeling good. Even if you're eating the best food and exercising, there's something about skin and your face that can make or break your mood, like if I wake up having terrible rosacea. I consider taking care of my skin one of my priorities. It's also related to do what I do for modeling, so I have to make sure I take care of my skin to make sure I don't have breakouts.
On skin mapping for your health: I didn't realize I had rosacea till seven years ago. I thought it was acne-driven until a dermatologist diagnosed it. There's not very much you can do about it. You just have to nurture it in a different way by being careful with the sun, not drinking too much coffee, or eating too many spicy foods. Our face tells us a lot about the way we are eating. When people drink too much, they have breakouts that directly affect their face. Just listening to my skin and paying attention to it has taught me a lot.
On facial products (and Priyanka Chopra's favorite serum): I may or may not use more products than an average human. I love [the facialist] Joanna Vargas. I started going to her salons four years ago, right after finding out I was allergic to rosemary. I had thought dehydration was the issue, but going to her was the beginning of a very loving relationship with her products. I use her Vitamin C face wash as a wake-up and bedtime cleanser. If I feel funky during the day, the Vitamin C energizes me. It has a little shimmer in it too, so you always glow immediately after washing.
I follow with her Daily Serum. I recently read Priyanka Chopra uses it — she's my beauty fan favorite so I was like, Hell yea, you use it. Then I use Eminence's Wild Plum Tonique — it's the first one I've found that feels heavenly. I follow that with Kate Somerville's Quench. I tend to be on the drier side.
On loving La Mer: I'm a La Mer girl. It is the only thing that calms my skin down. You have to warm it up between your fingers. The key is to use a light touch and rub it in. It really works for me. If I put it on, it's almost like medicine. I know the science behind it was related to burn-victim medicine, but I don't know how much that plays into it. But it really does help. I go between La Mer and CV Labs Calming Moisturizer when summer really hits, since La Mer is a little thicker.
On her masking trick: At night, I try to sheet mask. I'm one of those people who does it on the plane. Joanna Vargas has an eye mask that looks like a superhero mask. I do that, along with a sheet mask and I swear, I am ready for the red carpet with zero makeup.
On the yummiest-smelling mask: At night, I do pretty much the same thing but change to the Rescue Serum. I'll add an eye cream. I exfoliate at least once a week too. Joanna told me to use her Exfoliating Mask overnight and leave it on as long as I can. I do that and wake up and my skin feels like a baby, it's crazy. It's so fresh and glowing. I also use the Eminence Strawberry Rhubarb mask. I want to eat my face when I put it on. It is so delicious smelling and lathering for the skin, it's one of my favorite extra treats.
On pimples and the best concealer: Oh my God, I have one right now. Honestly, I've never found anything that genuinely works. I am lucky that I am not super acne prone. I believe in that old wive's tale, just leaving it be until it's ready, so I just use a good concealer. I'll do the NARS one or the Kevyn Aucoin Sensual Skin Enhancer. It's so pigmented you can color it in with just one little dot. That little pot has lasted me for years.
On preparing for photo shoots: I learned from another model to ice my face. It de-puffs you, brings your skin to life, and wakes you up. It's my new favorite thing to do. You can rub an ice cube over your face or a cup of ice. It's so simple. I also just did Joanna Vargas's new facial, the Super Nova facial that uses cryotherapy so this all makes sense to me.
I am also a firm believer in LED lights. I do the red ones for my skin. It helps with my rosacea and cellulite. Joanna has a full LED red bed that looks like a sun tan bed. I noticed a difference in my skin almost immediately. It helped with hyperpigmentation from the inside out. It looked clear, happier, and more luminous than ever. I'm experimenting with the handheld ones too.
On how skin care sets her free: Once I got my rosacea and skin care controlled, I was able to be free in my face and be confident with no makeup. It felt so liberating. I wouldn't be able to have that without having the right skin care. I didn't have to cover anything. I could just be myself. With what I do, in speaking about body positivity and self care, my skin felt like the last part of me that wasn't free. So once I found the right skin care, I was.
On how Instagram helps her connect: I am human. There's this assumption that we're almost super human in the public eye. On those days, I look to my Instagram and followers. I get so many beautiful messages from girls on a daily basis. When you see a direct response to what you're doing, it can't help but change your mood. No pimple can take away how good that feels. It's about sticking with the right perspective. Beauty fades, it's the legacy that you leave behind that's more important.
If you buy something through our links, New York may earn an affiliate commission.