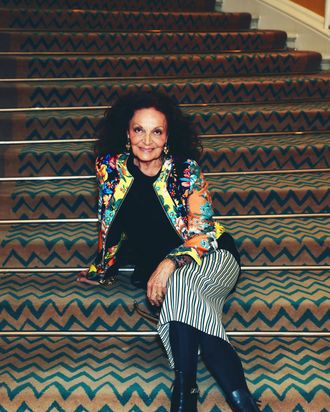 Diane von Furstenberg.
Photo: Darren Gerrish/WireImage
According to Diane von Furstenberg, Viagra is the "worst thing that has happened to women in the last 15 years." In a new interview with The Times, the legendary fashion designer said that it used to be that men weren't really fathering children after 65, but now, "Now, with Viagra … they just feel…"
"For men it used to be all about getting it up. 'Did I?' 'Can I?' There was a certain fairness," she said. "A woman couldn't have a child after 40, right? Though even that doesn't exist any more."
DVF also shared that she and her husband have separate residences in New York, and that in L.A., she often sleeps in the guest bedroom because her husband "sleeps with two dogs inside the bed."
Von Furstenberg's sentiments about Viagra extend to her approach to aging in general: She just wants us all to stop fighting against time. "Age means you have lived," she said. "I am 71, but I should be 140 I have lived so fully." She added that she finds it "humiliating" that women in their 30s try to shy away from embracing their age and dislikes the fact that "even young girls [are] doing things to their faces."
Hopefully we all can embrace aging as enthusiastically as Diane von Furstenberg.