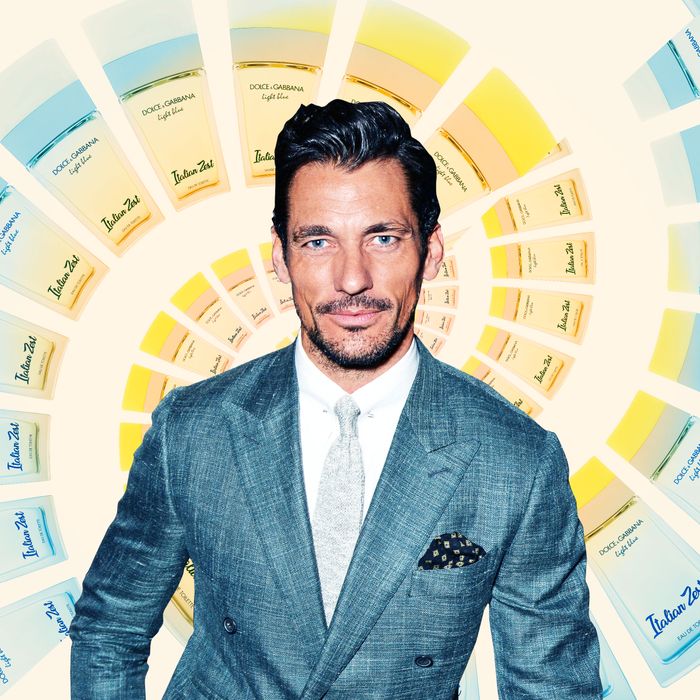 Photo-Illustration: David M. Benett/Getty Images
Call it the Proust effect: Memories are often triggered by smells. Scientific studies confirm that out of all the senses, smell offers the best recall. In Scent Memories, the Cut asks people about the scents they associate with different times in their lives. Next up is David Gandy, model, the face of Dolce & Gabbana's original Light Blue fragrance, and the host of D&G's Light Blue Italian Zest fragrance launch party. The new scent is a summery citrus one that's reminiscent of Capri with notes of lemon, apple, white rose, and musk. The Cut spoke with Gandy about the smell of cheese puffs, classic Jaguars, and burnt hair.
My first scent memory is: Cut grass. I would remember coming home from school and my dogs would be there. My mom would be cutting the grass and I'd be in the backyard. I think the older you get you get more into gardening — my fingers are greener now. We have a small garden here in Central London, I have pots and olive trees around my garden.
Happiness smells like: Any car smell. I'm a complete petrol nut; my passion is cars, and I also race cars. That new car smell is happiness. I also collect classic vintage cars. There's a smell of old leather and wood that you get from a classic '50s or '60s Jaguars that you don't get from any other classic car. There's also the smell of petrol — old classic cars aren't the cleanest things in the world so they pump out these petrol fumes. When in you're in a beautiful town in Rome in Italy and you're surrounded by 400 classic cars, it's a special moment.
Love smells like: When we first started going out, I gifted my girlfriend a D&G fragrance — it's called Velvet Patchouli. They [D&G] sent me samples of many fragrances, and I gave her one, and she's worn that ever since.
Friendship smells like: They say a man's best friend is his dog so I suppose my dog, Dora. She is my most loyal companion and friend. She's a rescue, she's complete mongrel, and she's made up of lots of different dogs.
Heartbreak smells like: I lost a lot of family members quite close together. My sister's kids were very young at the time, but they came with us to the crematorium. They were very, very small so to keep them occupied and quiet, we would give them potato chips. They're called Wotsits in the U.K., but they're basically cheesy puffs. I actually haven't smelled them in a while and then recently, someone else's kids had a packet and it took me back to that crematorium. It was really, really weird. I still eat them — I just stole half the bag from my goddaughter so it hasn't put me off my appetite.
Regret smells like: Old Fashioneds. If there's a big night with vague memories, it always seems to have started and ended on Old Fashioneds. It's a good smell, but then regret the morning after.
The worst smell is: Burnt hair is my hatred. I absolutely can't stand burnt hair. It's not like you smell it very often, but it's horrible. It probably has to do with someone with a hairdryer too close to my head or something.
Sunday morning smells like: We kind of have a ritual in the house with the dog. It's coffee, toast, marmalade, and Sunday papers. We usually take the dog for a walk and she's always wet because we live in London, so of course it's always raining. So it's a wet dog, coffee, and Sunday papers kind of smell.
Monday mornings smell like: I remember at school having to put my gym bag together for school. I remember putting my sports gear and my kit in my gym bag and it would be slightly muddy, grassy, and damp. I think it's all to do with school. That's also probably my sad feeling.
My home smells like: My nieces and nephews, for some reason. They always think my house smells like fig because I have fig candles or fig and vetiver hand wash or diffusers.
A pleasant surprise smells like: I hate surprises. I'm not sure I've ever had a pleasant surprise. I suppose any surprise smell is going to be blown out candles. You always have to blow out candles on your birthday.
If I could have one smell on your hands forever, it would be: I'm obsessed with Aesop hand wash. It has vetiver in it, and it's got oud in it, which I love as well.
I smell like: I suppose it's a mix of classic cars and leather. I'm always in my classic cars and I always have a leather or wax jacket. I have lots of old leather chairs and wood in my house too — it's actually quite British, just old leather. I think I constantly kind of smell like wood, leather, or vetiver — that mixed with fig.
If you buy something through our links, New York may earn an affiliate commission.