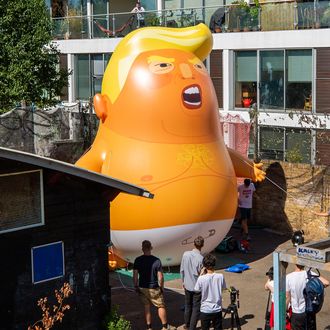 Donald Trump baby blimp.
Photo: Andrew Aitchison/In Pictures via Getty Images
It turns out a 19-foot blimp of adult-baby Donald Trump is almost as repulsive at the real-life version, and thanks to the mayor of London, one will soon fly over the city.
According to AP News, mayor Sadiq Khan approved activists' request to inflate and shoot the giant orange baby into the sky over Parliament Square Gardens for two hours on July 13, on the same day as a "Stop Trump" march in central London during the president's visit to England.
Although Khan is a vocal Trump critic, he didn't immediately give the blimp the green light — he took a little convincing. According to activist Leo Murray, the city "originally told us that they didn't recognize Trump Baby as legitimate protest," but after a swelling of grassroots support for the be-diapered Trump — more than 10,000 people signed a petition, and a thousand have donated nearly $25,000 to a crowdfunding campaign — the mayor changed his mind.
"The Mayor supports the right to peaceful protest and understands that this can take many different forms," a spokesperson for the mayor said. "His city operations team have met with the organizers and have given them permission to use Parliament Square Garden as a grounding point for the blimp."
And, if the activists count the blimp's first flight as a success, #TrumpBaby may soon be coming to a city near you.
"We now plan to keep this crowdfunder rolling so that we can cover the shipping and helium costs to get #TrumpBaby to follow little Donald around the world, haunting his diplomatic engagements wherever he goes!" the crowdfunding website reads. "#TrumpBaby can become a permanent feature of this dreadful Presidency, a constant, unmissable reminder of the contempt with which this embarrassment of a man is held by everyone outside of his deranged, bigoted base."
Great, looking forward to it.