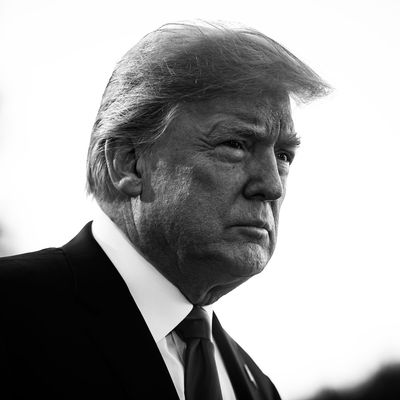 Donald Trump.
Photo: Al Drago/Getty Images
Just days before the U.S. president's visit to England in early July, the BBC figured it was a good time to revisit a very worthwhile question: Donald Trump, the sex scandal–plagued world leader who has been accused of sexual misconduct by numerous woman, and who once bragged about grabbing women by the pussy — could he be a sex pest?
The BBC first ran a 30-minute report dedicated to this notable query on Monday, July 9 – three days before Trump's visit to England. Titled "Trump: Is the president a sex pest?" it focused on Trump's relations with women in the 1980s and 1990s. Now, for those of us stateside who would like an answer of our own, the documentary is scheduled to premiere in the US and Canada on Saturday, July 21, at 10:30am EST, with another airing on Sunday afternoon.
The report was not initially available for streaming outside of Europe, but outlets such as VICE News and the Mirror gained access when it first aired, and the BBC put out a press release today detailing some of the allegations from the documentary.
The half-hour show features two women and a man who say they witnessed Trump's behavior at parties in the '80s and '90s. One woman, Barbara Pilling — who has never spoken publicly before about Trump — said she met the president at a New York party in the late 1980s, where he questioned her over her age. When she responded 17, the president allegedly responded, "Oh, great. So you're not too old and not too young. That's just great."
"I felt like I was in the presence of a shark getting ready to roll his eyes back in his head and bite me," Pillings told BBC. She also spoke of Trump's predatory behavior toward other women at the party. According to Pillings, when a waitress offered Trump a drink, "He didn't take the drink and slapped her on the bottom. She was a blonde. He gave her butt a slap and it was very loud. He was like, 'Don't worry, that's not your tip.'"
Pillings also describes going to the restroom and discussing Trump with other models; one said the president was "trying to grab [her] ass" as she walked by.
The man, who asked to remain anonymous, claims he attended many of the same parties as the future president, where there was "a lot of cocaine around," and wealthy men solicited sex from younger women. "It was kind of like a feeding frenzy. The girls were there as consumables." ("There's no evidence that Donald Trump had sex with underage girls," the BBC notes, "but the program has been told he did pursue models in their teens.")
The above allegations: Undeniable sex-pest behavior.
This post has been updated throughout with more information about the nature of the allegations in the documentary.