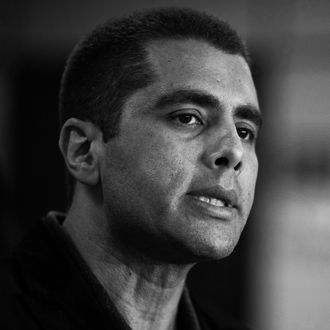 Dr. Denis Furtado.
Photo: Leo Correa/AP/REX/Shutterstock
A popular Brazilian plastic surgeon known as "Dr. Bumbum" has been arrested after one of his patients died, the BBC reports.
After Dr. Denis Furtado administered injections in 46-year-old Lilian Calixto's buttocks, she became ill, leading him to dump her at a hospital and go on the lam. She died early Sunday morning, while he was finally arrested on Thursday after four days of evading police.
Furtado, 45, had over 650,000 followers on his now-deleted Instagram page, however, his credentials as a plastic surgeon are questionable:
The Brazilian Plastic Surgery Society said he was not a trained plastic surgeon. In a statement on its website, it said procedures should never be carried out in private homes, and it warned against using PMMA — a synthetic resin also known as acrylic glass filler — for any aesthetic purposes.
While butt injections have also grown in popularity Stateside, many of them are not approved by the FDA and can lead to disfigurement and death.
Furtado is now facing murder charges.