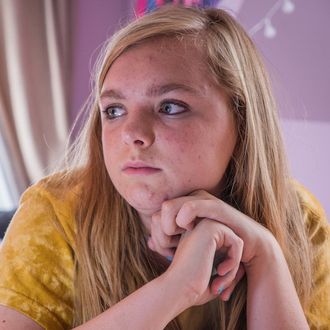 A scene from the movie
Eighth Grade
.
Photo: A24
Watching Eighth Grade is just as much a physical experience as it is an audio-visual one. The film's writer and director — former YouTube star Bo Burnham — nails exactly what it feels like to inhabit the mind and body of a middle schooler, transporting viewers back in time to their own awkward phases.
In the opening montage, for example, one kid picks at the rubber band connecting their top and bottom braces like a guitar. Upon seeing this, I clutched my own mouth and wailed — and so did other members of the audience, as if we were all on a virtual roller-coaster ride through adolescence.
More than anything, though, I was struck by the way the film's protagonist, Kayla, styles her hair: parted to the side, with one chunk tucked behind her ear, but divided evenly in the back so that it all hangs over her shoulders. It's a look that makes sense from the front but not from the back, and as such, is a perfect embodiment of life in middle school.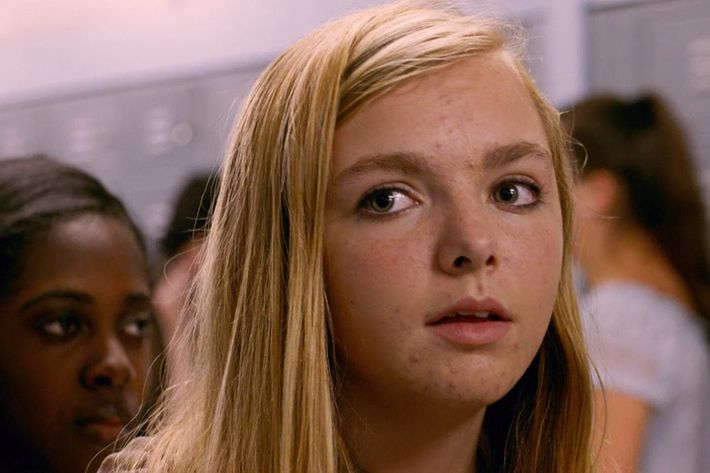 Surreal things happen to our bodies from the ages of 11 to 14. Our own self-awareness grows in tandem with our boobs, teeth, and limbs, and as a result, middle schoolers tend to spend an enormous amount of time looking at themselves in the mirror, triangulating their existence. (And taking selfies, if you're in Kayla's generation.) Kayla's hair is clearly styled from this perspective — where all you can comprehend is the person staring back at you. It's the look of someone who has never considered that people can see them from behind. In middle school, your mirror face is all that matters.
I remember the exact moment my middle school tunnel vision wore off and I finally realized that my existence was in 360 degrees — that I was actually a person, not just some idea of one. It was devastating, the weight of so many hours (years!) spent styling a terrible back-middle part, suddenly landing on my shoulders. I saw myself from the perspective of my crush sitting behind me in math class, as opposed to hypothetically gazing into my eyes. Not only did this front-loading of hair accentuate my terrible slouch, but the back of my neck was also so, so hairy. As my-middle school self might say, I literally wanted to die.
In one scene from Eighth Grade, Kayla spends an hour doing her hair and makeup before school, only to lie carefully back down on her pillow to take a Snapchat selfie. "Woke up like this" she writes as a caption, adding a heavy filter. The audience laughed. We couldn't see the back of her head on camera when she got up to leave, but we all knew exactly what it looked like.