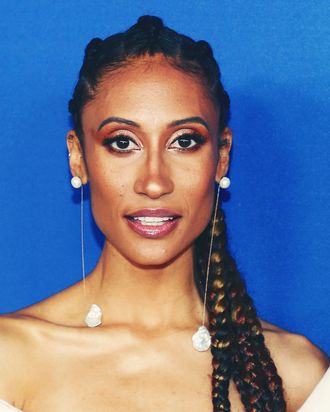 Elaine Welteroth.
Photo: Taylor Hill/FilmMagic
Former Teen Vogue editor-in-chief Elaine Welteroth says her Uber driver unceremoniously kicked her out of his car, far from the drop-off location she typed on the app, and called 911 on her.
The incident, which she video recorded on her phone and uploaded to her Instagram stories, occurred Tuesday morning at the intersection of Park Place and 7th Avenue in Park Slope — nowhere close to the Flatbush address she reportedly requested. According to her account, she was talking to someone on the phone when the driver stopped his car, told her to get out, and claimed that "it's not his job" to get her to the correct location.
"I said, 'Are we here? Which way is it,'" she says in the video, in which the driver can be heard talking to someone on the phone. She later reveals that he was allegedly on the phone with the police.
Welteroth then gets out of the car and walks up to the driver's window, who can be heard telling the cops that Welteroth hit him. Somewhere across the street, a bystander yells, "She did not hit him." Instead, he was the one who allegedly closed his car door on her, leaving a scrape and bruise on her forearm.
Following the Tuesday morning incident, Welteroth expressed her frustrations over how frequently episodes like this happen, "particularly to black women."
"Too many of us deal with this kind of mistreatment daily and we just keep it moving," she wrote. "Because we know we are bigger and stronger than the awful, petty things that happen to us. Because we know that our energy and time are our most valuable commodities. Because we believe in practicing the living mantra: 'When they go low, we go high.'"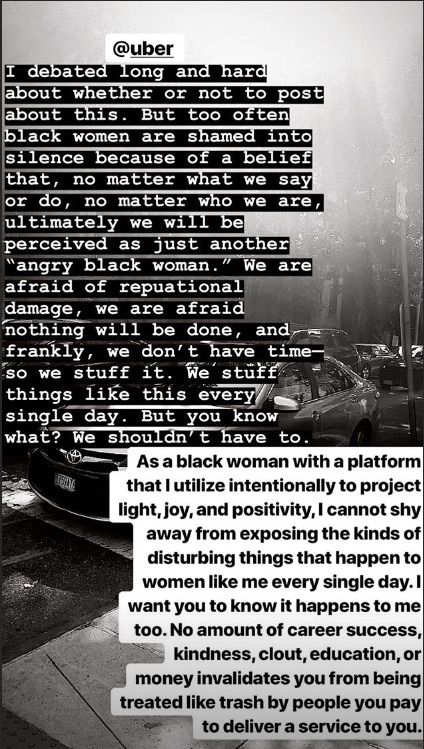 Soon after, Welteroth said she received a call from Uber board member Ariana Huffington, who apologized for the mistreatment and assured Welteroth that the driver was being investigated. In a statement to the Cut, an Uber spokesperson would not explicitly confirm this, instead saying, "We're reviewing the matter."
"What's been detailed has no place on our app," the spokesperson said.
The Cut has reached out to Welteroth for comment.